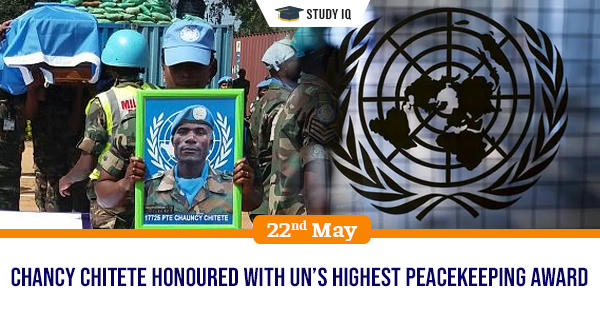 Chancy Chitete honoured with UN's highest peacekeeping award
Date: 22 May 2019
Tags: Honours & Awards
Late Malawian soldier Chancy Chitete will be honoured with UN's highest peacekeeping award -- "Captain Mbaye Diagne Medal for Exceptional Courage. He is being honoured in recognition of his "brave and selfless" action demonstrated in Democratic Republic of Congo (DRC) and saving life of his fellow 'blue helmet' and helping his colleagues repel an armed group ADF that had been terrorizing civilians and disrupting UN's ongoing efforts to treat, and halt, the spread of the deadly Ebola virus. He was killed in this operation in November 2018.
Captain Mbaye Diagne Medal for Exceptional Courage
It is awarded to military, police, civilian UN personnel and associated personnel who have demonstrated exceptional courage, in face of extreme danger, while fulfilling mandate of their missions or their functions, in service of humanity and United Nations.

It was established in 2014 and is named after Captain Mbaye Diagne of Senegal, who served with former UN Mission in Rwanda (UNAMIR) and saved, unarmed and in face of extreme danger thousands of Rwandans from death during 1994 genocide.