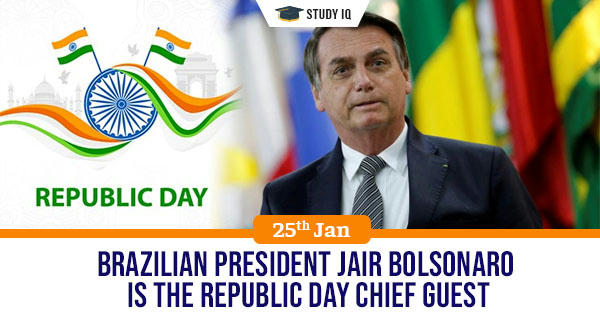 Brazilian President Jair Bolsonaro is the Republic Day Chief guest
Date: 25 January 2020
Tags: Honours & Awards
Issue
Brazilian President Jair Bolsonaro will begin his four-day visit to India, his first since coming to power last year. Bolsonaro will be the chief guest at the 71st Republic Day celebrations.
Background
The visit of President Bolsonaro is extremely important visit. It will be an opportunity to re-energise India's strategic partnership and take it forward in a focused manner.
Details
Brazil
Brazil is the largest country in both South America and Latin America. It is the world's fifth-largest country by area and the sixth most populous. Its capital is Brasília, and its most populated city is São Paulo.

It is the largest country to have Portuguese as an official language and the only one in the Americas.

Brazil shares land borders with Uruguay to the south; Argentina and Paraguay to the southwest; Bolivia and Peru to the west; Colombia to the northwest; and Venezuela, Guyana, Suriname and France (French overseas region of French Guiana) to the north. It shares a border with every South American country except Ecuador and Chile. It is bounded by Atlantic Ocean in the east.

Its Amazon River basin includes a vast tropical forest, home to diverse wildlife, a variety of ecological systems, and extensive natural resources spanning numerous protected habitats.

This unique environmental heritage makes Brazil one of 17 megadiverse countries. Brazil is the only country in the world that has the equator and the Tropic of Capricorn running through it.

The highest point in Brazil is the Pico da Neblina at 2,994 metres and the lowest is the Atlantic Ocean.

Major rivers include the Amazon (the world's second-longest river and the largest in terms of volume of water), the Paraná and its major tributary the Iguaçu , the Negro, São Francisco, Xingu, Madeira and Tapajós rivers.

Brazil is considered an advanced emerging economy. It has the ninth largest GDP in the world by nominal, and eight by PPP measures. It is one of the world's major breadbaskets, being the largest producer of coffee for the last 150 years.

Brazil is a founding member of the United Nations, the G20, BRICS, Union of South American Nations, Mercosul, Organization of American States, Organization of Ibero-American States and the Community of Portuguese Language Countries.
India and Brazil trade relationship
Major Indian exports to Brazil include agro-chemicals, synthetic yarns, auto components and parts, pharmaceuticals and petroleum products. Brazilian exports to India include crude oil, gold, vegetable oil, sugar and bulk mineral and ores.

Indian investments in Brazil were around $6 billion and Brazilian investments in India are estimated at $1 billion in 2018. Brazilian investments are mainly in automobiles, IT, mining, energy and biofuels. India has invested in Brazil's IT, pharmaceutical, energy, agri-business, mining and engineering sectors.