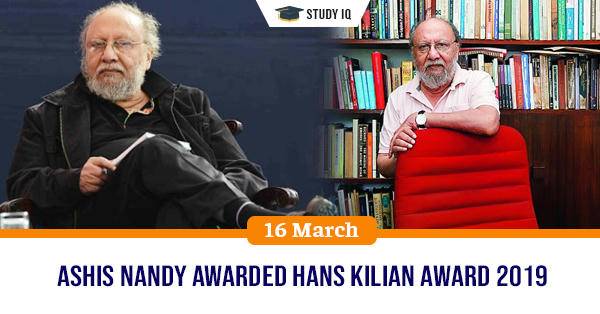 Ashis Nandy awarded Hans Kilian Award 2019
Date: 16 March 2019
Tags: Honours & Awards
Sociologist and political psychoanalyst Ashis Nandy was named recipient of Hans Kilian Award for the year 2019. He was chosen for his efforts to adapt western traditions of thought such as psychoanalysis to non-western context.
Ashis Nandy
He is internationally renowned political psychologist, social theorist, and critic from India.

His work focused on two diametrically opposed and oscillating domains of existence – human potential and human destructiveness.

He has provided theoretical critiques of European colonialism, modernity, development, secularism, Hindutva, science, technology, cosmopolitanism, nuclearism and utopia.

He has also offered alternative conceptions relating to critical traditionalism and cosmopolitanism.

In addition, he also has offered an original historical profile of India's commercial cinema as well as critiques of state and violence.

He was director of Centre for the Study of Developing Societies (CSDS) from 1992 to 1997 and is senior honorary member of CSDS.

Awards and Honours:

He was awarded prestigious Fukuoka Asian Culture Prize in 2007. He was included as one of world's 100 most important public intellectuals in Foreign Affairs magazine in 2008.
About Hans-Kilian Award
It is biennial award bestowed upon researchers for their outstanding scientific achievements that provide deeper insights into cultural and historical existence of humankind and constantly evolving human psyche.

It was established in 2011 by Kohler Foundation and bears name of late social psychologist and psychoanalyst Hans Kilian.

It aims to foster growth of interdisciplinary social psychology and psychoanalysis.

Previous recipients are:

Dr. Hartmut Bohme (2011), Dr. Hans Joas (2013), Dr. Jessica Benjamin (2015) and Dr. Jaan Valsiner (2017).