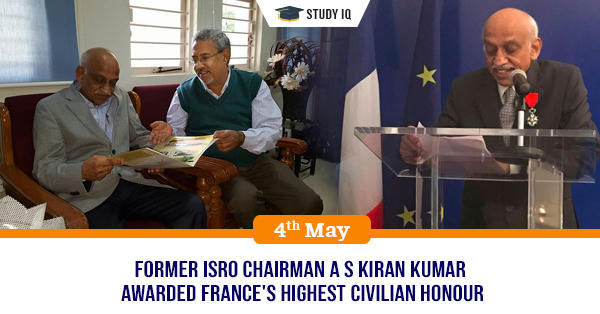 Former ISRO chairman A S Kiran Kumar awarded France's Highest Civilian Honour
Date: 04 May 2019
Tags: Honours & Awards
Former ISRO chairman A S Kiran Kumar was awarded with France's highest civilian honour, Chevalier de l'Ordre national de la Legion d'Honneur. He was awarded in recognisation of his invaluable contribution to development of India-France space cooperation. He was presented with the honour by France's Ambassador to India Alexandre Ziegler on behalf of French President.
About AS Kiran Kumar
He was Chairman of Indian Space Research Organisation (ISRO) from 2015 to 2018. He is currently Chair of ISRO Committee on Earth Observation Satellites.

He had started his space science career after he had joined Space Applications Centre (SAC) in Ahmedabad and began working on spaceborne Electro-optical imaging instruments.

He has represented ISRO at many international forums such as Indo-US Joint Working Group on Civil Space Cooperation and World Meteorological Organisation (WMO).

He has made significant contributions to Indian space programmes in key projects like Bhaskara TV payload, Chandrayaan-1 and Mangalyaan.

He is credited with design and development of electro-optical image sensors used in India's first remote sensing satellite, Bhaskara (launched in 1979).

He also has contributed in design and development of imaging instruments for projects such as Resourcesat, INSAT–3D, Micro Satellite and Cartosat.

Awards and Honours:

He has been awarded various prestigious awards and honors in recognisation of his contribution to the enhancement of space programmes including Indian Society of Remote Sensing Award (1994), Vasvik award (1998), Astronautical Society of India Award (2001), ISRO's Individual Service award (2006), Bhaskara Award of Indian Society of Remote Sensing (2007) and Padma Shri (2014).
About Chevalier de l'Ordre national de la Legion d'Honneur
It is highest order for military and civil merits in France. In English in means National Order of the Legion of Honour. It was established in 1802 by Napoleon Bonaparte. It is conferred by France for outstanding service to nation, regardless of nationality of the recipient.

French President is Grand Master of Ordre National de la Legion d'Honneur. This order is divided into five degrees of increasing distinction: Chevalier (Knight), Officier (Officer), Commandeur (Commander), Grand Officier (Grand Officer) and Grand-Croix (Grand Cross).