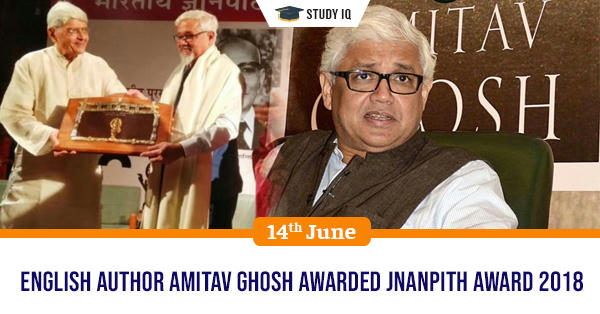 English author Amitav Ghosh awarded Jnanpith Award 2018
Date: 14 June 2019
Tags: Honours & Awards
Renowned English author Amitav Ghosh (62) was awarded 54th Jnanpith Award for his outstanding contribution to enrichment of Indian Literature in English. He was presented the award by Gopalkrishna Gandhi, former Governor of West Bengal in New Delhi. With this, GHosh became first English language writer to receive Jnanpith award.
Amitav Ghosh
He was born in Calcutta in 1956. He is alumnus of Doon School, Dehradun, St. Stephen's College, Delhi University and Delhi School of Economics.

His works:

His first novel was The Circle of Reason (1986). Some of his fictional and non-fictional works are The Shadow Lines (1988), The Calcutta Chromosome (1995), The Glass Palace (2000), The Hungry Tide (2004),Antique Land (1992), Dancing in Cambodia and at Large in Burma (1998), Countdown (1999), and The Imam and the Indian (2002), The Great Derangement: Climate Change and the Unthinkable (2016) etc.

Awards and Honours:

Sahitya Akademi Award (1990) for his book The Shadow Lines and Padma Shri (2007) for his services to literature and education. In 2015, he was named as Ford Foundation Art of Change Fellow.
About Jnanpith Award
It is India's highest literary honour. It was instituted in 1961 by Bharatiya Jnanpith trust founded by Sahu Shanti Prasad Jain, family that owns the Times of India newspaper group. Its name is taken from Sanskrit words Jnana and Pitha which means knowledge-seat.

It is bestowed upon any Indian citizen who writes in any 22 official languages mentioned in Schedule VIII of Constitution of India and English. It has no posthumous conferral.

Prior to 1982, it was only given for a single work by a writer. But after 1982, it is given for lifetime contribution to Indian literature.

It carries cash prize of Rs. 11 lakh , a citation plaque and bronze replica of Saraswati (Vagdevi), the Hindu goddess of knowledge and wisdom

Malayalam writer G. Sankara Kurup was first recipient of this award in 1965 for his collection of poems, Odakkuzhal (The Bamboo Flute), published in 1950.

Bengali novelist Ashapoorna Devi became was first woman to win the award in 1976 and was honoured for her 1965 novel Pratham Pratisruti (The First Promise).