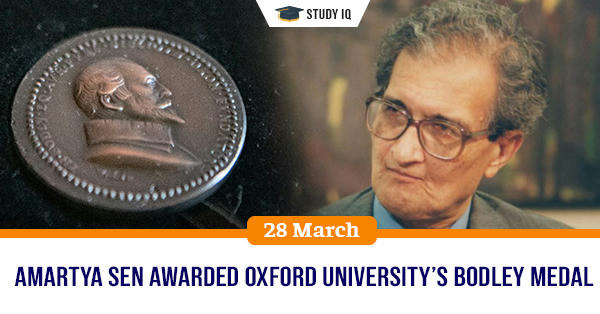 Amartya Sen awarded Oxford University's Bodley Medal
Date: 28 March 2019
Tags: Honours & Awards
Nobel Prize-winning economist and philosopher Amartya Sen (85) was awarded prestigious Bodley Medal, the highest honour bestowed by University of Oxford's world-famous Bodleian Libraries.
Bodley Medal
It is awarded to individuals who have made outstanding contributions to the fields of literature, culture, science and communication.

It is named after University of Oxford's Bodleian Libraries' founder, Sir Thomas Bodley and awardee to those who have achieved vision of its founder. (Thomas Bodley had rebuilt the first public library at Oxford in 1602).

Some of its past winners include physicist Stephen Hawking, novelist Hilary Mantel and inventor of World Wide Web Tim Berners-Lee, naturalist David Attenborough, writers Hilary Mantel and Ian McEwan, and film director Richard Attenborough.
Bodleian Library: It is main library in Bodleian Libraries group and is second in size only to British Library. It was first opened by Thomas Bodley in 1602. This group of libraries holds over 13 million printed items including rare manuscripts and collections linked to India.