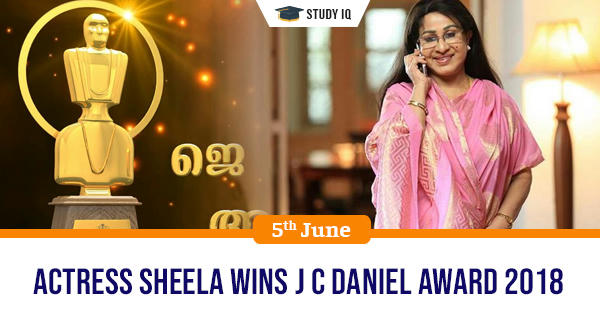 Actress Sheela wins J C Daniel Award 2018
Date: 05 June 2019
Tags: Honours & Awards
Veteran actress, director, screenwriter Sheela was chosen for prestigious J C Daniel Award 2018, the Kerala government's highest honour for outstanding contribution to Malayalam cinema. She will be presented with this award in July 2019.
About Sheela
She is popularly called as Sheelamma by her admirers. She had started her acting career at age of 13 by debuting in MG Ramachandran-starrer Tamil movie "Paasam" during early 1960s.

She had started her acting innings in Malayalam through P Bhaskaran-directed Malayalam movie "Bhagyajathakam".

She was one of the most popular and highest paid actress, reportedly paid more than her male counterparts, of her time.

She has authored Malayalam novel named Pathamathe Cheque and also written book titled Kuilinte Koodu, apart from many short stories.

Awards and Honours:

She was the first recipient of 'best actress' award instituted by the Keralagovernment through the 1969 movie "Kallichellamma". She also has received the national award for the best character artist through the 2004 movie "Akale". Sheela also holds Guinness World Record for acting in the largest number of films opposite the same hero- late Prem Nazir- in nearly 130 films.
About J C Daniel Award
It is Kerala's highest award in Malayalam cinema. It is presented annually by Kerala State Chalachitra Academy, a non-profit institution under Department of Cultural Affairs of Kerala Government.

It was instituted in 1992. It is named after J C Daniel, who made the first silent movie in Mollywood

It is given to honour the recipients for their "outstanding contributions" to Malayalam cinema". Its honourees receive statuette (plaque), a citation, and a cash prize of

Rs. 5 lakhs.

Some its previous recipients are iconic director Adoor Gopalakrishnan and veteran lyricist Sreekumaran Thampi.