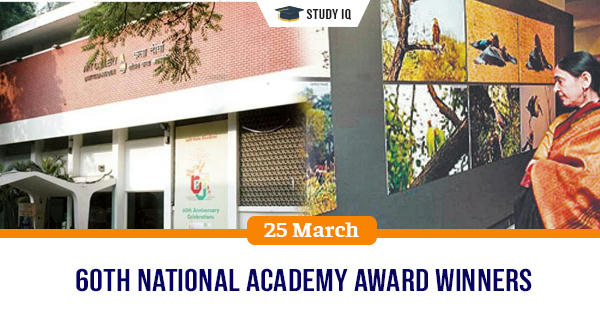 60th National Academy Award winners
Date: 25 March 2019
Tags: Honours & Awards
Lalit Kala Akademi (LKA) announced 15 winners of the 60th Annual Academy Awards for the year 2017-2018. The winners will be honoured at 60th National Exhibition of Art, scheduled from March 25 to April 8, 2019 at National Gallery of Modern Art (NGMA) and Sir JJ School of Art. The winners will also display their various artworks at this exhibition.
Winners are
Pratap Chandra Chakraborty (West Bengal), Vasudeo Taranath Kamath (Maharashtra), Chandan Kumar Samal (Odisha), Hemant Rao (Madhya Pradesh), Gouri Vemula (Telangana), Jaya Jena (Odisha), Hiren Kumar Chotu Bhai Patel (Gujarat), Jayesh K.K (Kerala), Douglas Maryan John (Maharashtra), Jitendra Suresh Sutar (Maharashtra), Rashmi Singh (Uttar Pradesh), Sachin Kashinath Chaudhari (Maharashtra), Veenita Sadguru Chendvankar (Goa), Sunil Kumar Viswakarma (Uttar Pradesh), Tabassum Khan (Bihar).
Lalit Kala Akademi
It is Central Government's apex independent cultural body in the field of visual arts in India. It is autonomous body, which is fully funded by the Ministry of Culture.

It was established in August 1954. It is headquartered at Ravindra Bhawan, New Delhi. It is also called as National Academy of Art.

Functions:

It promotes and propagates understanding of Indian art, in and outside the country. It also provides scholarships and fellow program and sponsors and organises exhibitions in India and overseas. It publishes bilingual journal.

Administration:

It functions through its General Council, Executive Board and other Committees. In April 2015, Union Government had taken control over its management, citing complaints regarding alleged administrative and financial irregularities in its functioning.

National Academy award:

It is one of awards and honours awarded by Lalit Kala Akademi. It carries plaque, shawl and prize money of Rs 1 lakh.