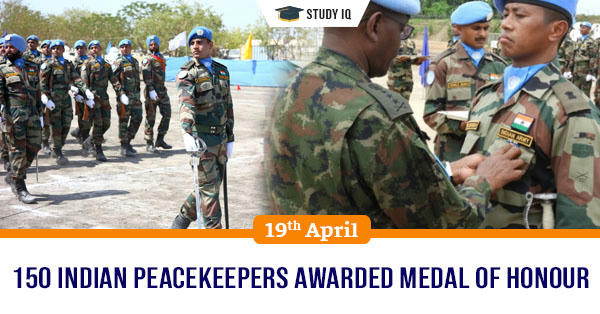 150 Indian Peacekeepers Awarded Medal Of Honour
Date: 19 April 2019
Tags: Honours & Awards
150 Indian peacekeepers deployed at United Nations Mission in South Sudan (UNMISS) were honoured with Medals of Honour for their supreme dedication and sacrifices in Malakal, South Sudan.
Indian peacekeepers serving with UNMISS have undertaken numerous training sessions of community animal health workers, providing value addition training for farmers to help them make the most of their produce. Besides, Indian Horizontal Mobility Engineering Company had completed renovation of 145 km of roadway connecting Bentiu and Leer in South Sudan, easing way for delivery humanitarian aid, trade and inter-communal dialogue.
India's contributions towards UN peacekeeping
India has been one of the top contributors of troops to United Natios peacekeeping missions. Presently, it is second largest contributor of troops, with more than 2,400 personnel deployed as peacekeepers under the UNMISS. Since inception of UN, over two lakh Indian military and police personnel have served under the UN flag, while 168 valiant soldiers have sacrificed their lives while at the UN service. Besides this, India is also contributing to UN Peacebuilding Fund.