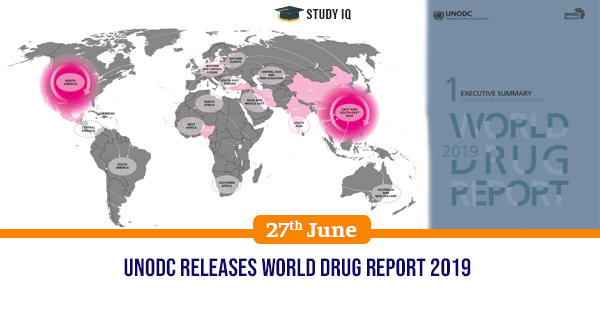 UNODC releases World Drug Report 2019
Date: 27 June 2019
Tags: Reports & Indices
The United Nations Office on Drugs and Crime (UNODC) released its latest World Drug Report on the occasion of International Day Against Drug Abuse and Illicit Trafficking (observed on 26 June).
Key highlights of report:
Globally, around 35 million people are estimated to suffer from drug use disorders and who require treatment services.

In 2017, an estimated 271 million people, or 5.5

%

of the global population aged 15-64, had used drugs in the previous year.

The most widely used drug globally continues to be cannabis, with estimated 188 million people having used the drug in 2017.

Opioids are responsible for two thirds of 585,000 people who died as result of drug use in 2017. Globally, 11 million people injected drugs in 2017, of whom 1.4 million live with HIV and 5.6 million with hepatitis C.

Estimated global illicit manufacture of cocaine reached all-time high of 1,976 tons in 2017, an increase of 25

%

on the previous year. At the same time, global quantity of cocaine seized in 2017 rose by 13

%

to 1,275 tons, the largest quantity ever reported.

Most of the world's opioids are produced in Afghanistan (263,000 hectares of poppy seed production) with Myanmar (37,300 hectares) coming in as the second largest producer.

Prevention and treatment continue to fall short with only one in seven people with drug use disorders receiving treatment each year.
About United Nations Office of Drugs and Crime (UNODC)
It is global leader in fight against illicit drugs and international crime. It operates in all regions of world through an extensive network of field offices.
It was established in 1997 by merging of UN Drug Control Programme and Centre for International Crime Prevention. It is headquartered in Vienna, Austria.
It is mandated to assist member states in their struggle against illicit drugs, crime and terrorism. It relies on voluntary contributions, mainly from Governments, for 90% of its budget.
Three pillars of UNODC work programme
Conduct field-based technical cooperation projects for capacity building of member states to counteract illicit drugs, crime and terrorism.

Conduct research and analytical work to increase knowledge and understanding of drugs and crime issues and expand evidence base for policy and operational decisions.

Assist states in ratification and implementation of relevant international treaties, the development of domestic legislation on drugs, crime and terrorism etc.