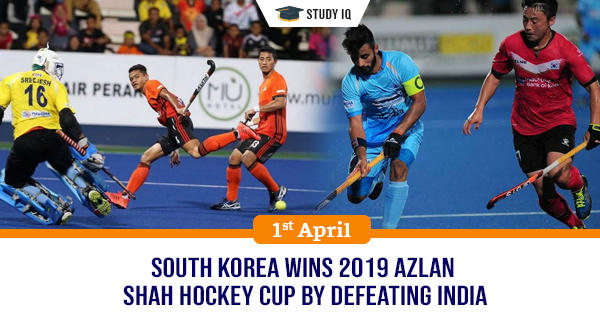 South Korea wins 2019 Azlan Shah Hockey Cup by defeating India
Date: 01 April 2019
Tags: Sports
South Korea won 2019 Azlan Shah Hockey Cup by defeating five time champion India in the penalty shootout. This was for third time South Korea has won this cup, earlier it had won it in 1996 and had shared with India in 2010. In this edition of tournament, hosts Malaysia finished third after defeating Canada by 4-2 goals in the third-fourth place classification match.
2019 final match
It was held at Ipoh, Malaysia. In it, India and South Korea had tied up scoring one goal each in regulation time. For India, goal was scored by Simranjeet Singh in the 9th minute and for South Korea equalizing goal was scored at 47th minute.
Tie in regulation time of the final match had led to penalty shoot. In it, Korea score 4 goals and India scored 2 goals. India missed first, fourth and fifth attempts and converted just two and Koreans just missed their third strike.
In penalty shootout, Birendra Lakra and Varun Kumar scored one goal each for India, while Mandeep Singh, Sumit Kumar Junior and Sumit missed. For South Korea, goals were scored by Jii Woo Cheon, Lee Jungjun, Jung Manjae and Lee Namyong
Azlan Shah Hockey Tournament
It is annual international men's field hockey cup or tournament held in Malaysia.

It is named after 9th king of Malaysia Sultan Azlan Shah (1928 to 2014). He was avid fan of field hockey and is famously known as 'Father of Malaysian Hockey'.

It was started in 1983 as biennial sporting event. Later it was converted into annual event after 1998, following its growth and popularity.

Australia has won prestigious tournament for record 10 times (1983, 1998, 2004, 2005, 2007, 2011, 2013, 2014, 2016 and 2018) followed by India which has won it 4 times (1985, 1991, 1995, 2009) and shared it in 2010 with South Korea and Pakistan three times (1999, 2000 and 2003).