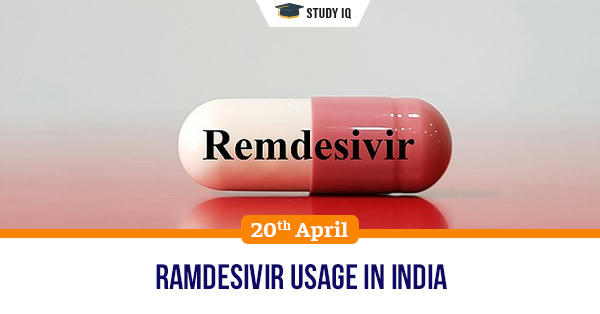 Ramdesivir usage in India
Date: 20 April 2020
Tags: Reports & Indices
Issue
The drug remdesivir has been under the spotlight as a possible treatment for critical cases of novel coronavirus disease (COVID-19). Globally, it is one of the four possible lines of treatment being investigated in the Solidarity trials under the aegis of the World Health Organization (WHO).
Background
While the drug is yet to get approval in any country to treat COVID-19, recent studies have claimed they have found promising results.
Details
It is a drug with antiviral properties that was manufactured by US-based biotechnology company in 2014, to treat Ebola cases. It was also tried in patients of MERS and SARS, both caused by members of the coronavirus family, but experts said it did now show promising results back then.

Coronaviruses have a single-strand RNA as their genetic material. When the novel coronavirus SARS-CoV2 enters a human cell, an enzyme called RdRP helps the virus replicate. Remdesivir works by inhibiting the activity of RdRP.

A small cohort study used remdesivir on 61 patients in USA, Canada, Europe and Japan. These patients were critically ill with low oxygen levels, and were administered remdesivir under manufacturer Gilead's compassionate use programme.

The study found clinical improvement in 68% of the cases, with their oxygen levels improving; 47% patients could be discharged after treatment, and more than 50% patients (17 of 30) no longer required mechanical ventilator support.

The study found that clinical improvement was less frequent in patients on invasive ventilators or among elderly people. Seven patients died despite treatment with remdesivir.

The study had no control arm, meaning another group of patients who were not administered the drug, to compare outcomes of treatment with and without remdesivir. Unless such trials are conducted, the effect of the drug remains a grey zone.

The Indian Council of Medical Research (ICMR) has said it can consider using the drug if local manufacturers are willing to procure it. Remdesivir is currently not available in India.

Hydroxychloroquine, an anti-malarial drug, is undergoing multiple trials to assess if it can be used to treat severe COVID-19 cases. It works by decreasing the acidity in parts of the cell where the virus is present, thereby inhibiting it.

Ritonavir and lopinavir are two antiviral drugs used for treatment of HIV. These too work by inhibiting the virus's RNA. Specifically, they target the enzyme that helps the virus split proteins.