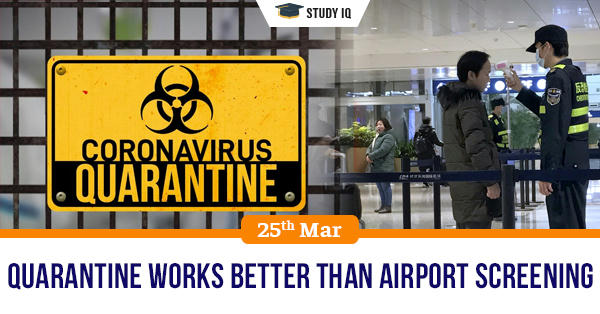 Quarantine works better than airport screening
Date: 25 March 2020
Tags: Reports & Indices
Issue
The Indian Council of Medical Research (ICMR) published research that compares the effectiveness and feasibility of two approaches, attempting to contain an outbreak at the border, and quarantining symptomatic cases within the country.
Details
The research makes a case for post-travel tracking rather than border containment. It uses mathematical modelling to show that spending resources on quarantining symptomatic cases can achieve a meaningful impact on the disease burden rather than attempting to achieve infeasible levels of containment at the borders.

It also accounts for the inevitability that an outburst of cases would make lab confirmations impractical. Therefore, the paper proposes "symptomatic surveillance" to be included with quarantine measures.

The government has focused on random sampling of patients with severe symptoms and quarantining positive cases. In the initial weeks of rising cases in India, asymptomatic travellers were not tested.

If India screened all symptomatic airport arrivals from China, the epidemic would occur in 45 to 47.7 days. If all asymptomatic arrivals from China were screened, India would need to identify at least 75% of asymptomatic infected arrivals in order to achieve an "appreciable" delay in the outbreak. If 90% were identified, the delay would be 20 days.

There is no accurate, rapid test to achieve the required detection levels, the paper notes, citing other studies to show that thermal screening can miss at least 46% of infections.

The only way to achieve the needed detection levels, in fact, may be isolation of all arrivals from the specified airports.

The researchers built their model with two scenarios. The optimistic scenario assumes that each infected person transmits the virus to 1.5 other people (known as R0 or reproduction number) and that asymptomatic infections do not infect others. The pessimistic scenario assumes each infection transmits to four other people, and that asymptomatic cases are half as infectious as symptomatic cases.

The models show that once community transmission occurs, the epidemic's peak and duration can be greatly affected by quarantining symptomatic cases, but only in the optimistic scenario.

The paper's hypothetical model found that quarantining 50% of symptomatic cases within three days of their symptoms would reduce overall cases by 62% and the peak number of cases by 89% in an optimistic scenario.

The model assumes that cases are only coming from certain regions in China, which is a major drawback. We now know that many cases in India have actually come from the Middle East and the UK.