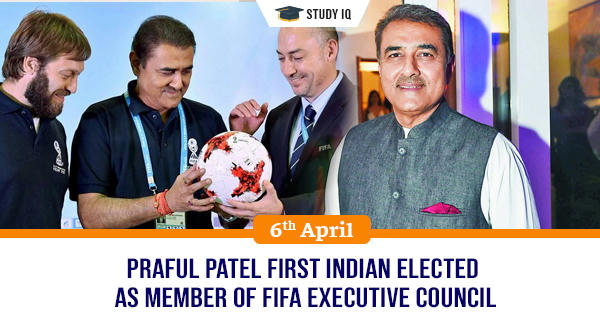 Praful Patel first Indian elected as member of FIFA Executive Council
Date: 06 April 2019
Tags: Sports
Praful Patel, president of All India Football Federation (AIFF) became first Indian to get elected as member of FIFA Executive Council. He was elected during 29th Asian Football Confederation (AFC) Congress held in Kuala Lampur in Malaysia. In this meeting, he received 38 votes out of total 46 votes. Patel, who is Senior Vice President at AFC was one of the eight candidates vying for the spot in the election.
FIFA
It stands for Federation Internationale de Football Association (French).

It is international governing body of association football, futsal, beach soccer, and eFootball. It was founded in 1904. It is headquartered in Zurich, Switzerland.

It is responsible for organization of major international football tournaments, notably World Cup (commenced in 1930) and Women's World Cup (commenced in 1991). Its membership now comprises 211 national associations.

Note: FIFA does not control rules of football and it is responsibility of International Football Association Board. FIFA is only responsible for organization of number of tournaments and their promotion.
FIFA Council: It is institution of FIFA. It is main decision-making body of FIFA in intervals of its Congress. Its members are elected by FIFA Congress. It is non-executive, supervisory and strategic body. It sets vision for FIFA and global football.