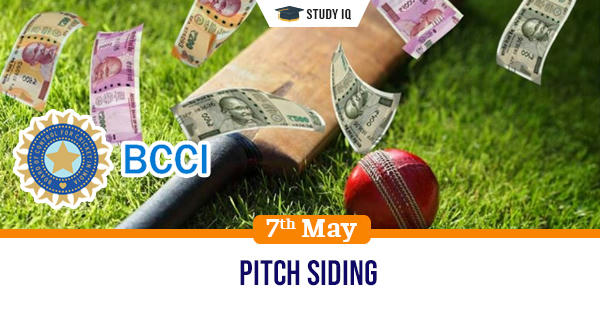 Pitch siding
Date: 07 May 2021
Tags: Sports
Issue
The Anti-Corruption Unit of the BCCI has arrested two individuals in Delhi for allegedly indulging in pitch siding or court siding.
Background
Cricket is the most popular sport in India and it involves large amount of betting. Individuals take all types of risks by gambling on a favourable outcome.
Details
The individuals were hired by cricket bookies to pass on the information directly from the stadium using a phone.

Pitch siding does not come under match-fixing but is a part of competitive betting that organisers have aimed at removing.
Pitch siding
In current system, there is a lag of few seconds for the match to be aired on the television. This few seconds window is used by a bookie to accept or reject bets.

Accepting or rejecting bets is based on the pre-information that is supplied by the agent directly from the stadium, who is watching the match live.

The bookie will not accept bets that have correctly predicted the next ball so that he will not have to pay for the correct outcome.
Legal status
Pitch siding is not considered illegal in most of the countries where betting is legalised. However, pitch siding will be violation of 'terms and conditions' section.

India has not legalised betting and an individual caught in any act that is linked to betting, including pitch siding, can be arrested.