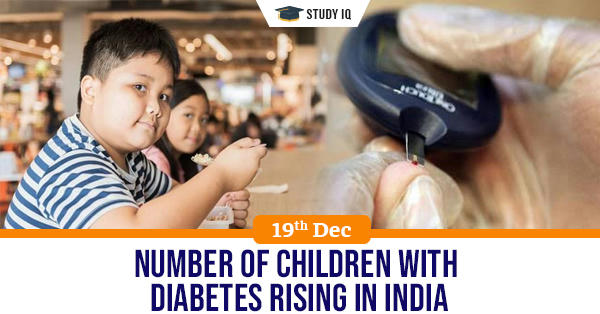 Number of children with diabetes rising in India
Date: 19 December 2019
Tags: Reports & Indices
Issue
The International Diabetes Federation (IDF), which released the 9th edition of the IDF Diabetes Atlas recently said that the number of children and adolescents with diabetes is increasing every year in India.
Background
Globally, there are 463 million people suffering from diabetes. This number is projected to reach 578 million by 2030 and 700 million by 2045.
Details
According to the latest edition of the Diabetes Atlas, there has been a 51% increase in diabetes cases worldwide, with South East Asia (SEA) showing an increase of 74%.

There were 88 million diabetes cases reported in the SEA region in 2019, with an estimate arriving at 153 million by 2045.

India has 15,900 new cases of Type I diabetes, along with 95,600 existing cases of Type 1 diabetes among children up to the age of 14 in 2019, says IDF report.

This edition of the Diabetes Atlas also emphasises actions that can be taken at various levels with a view to strengthening the global fight to reduce the impact of diabetes.

Many countries still lack a national diabetes plan, and at least half the world's population does not have full coverage for essential health services.

IDF also says, urgent national actions are required to improve Type 2 diabetes prevention and the management of all types of diabetes.
International Diabetes Federation (IDF)
The International Diabetes Federation (IDF) is an umbrella organization of over 230 national diabetes associations in more than 160 countries and territories.

It represents the interests of the growing number of people with diabetes and those at risk. IDF's mission is to promote diabetes care, prevention and a cure worldwide. The Federation has been leading the global diabetes community since 1950. It is headquartered in Brussels, Belgium.

IDF conducts a number of activities and projects like advocacy and lobbying work, education for people with diabetes and their healthcare providers, public awareness and health improvement campaigns, as well as the promotion of the free exchange of diabetes knowledge.