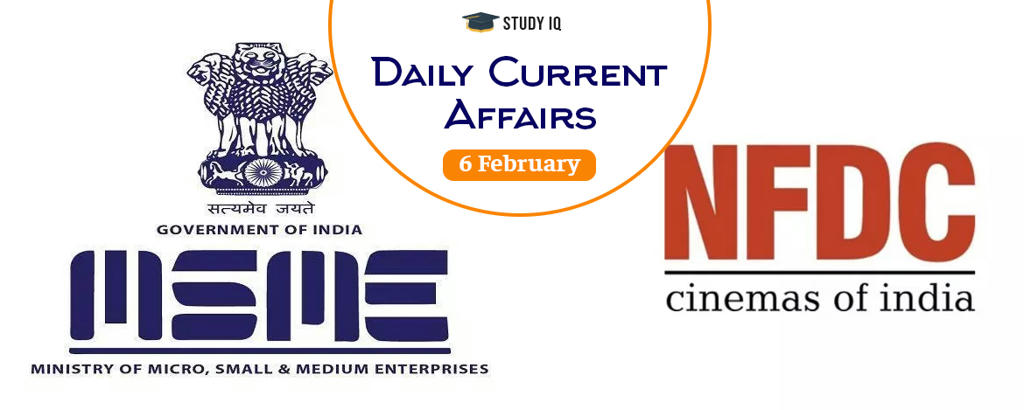 NFDC to be felicitated for promotion of SC/ST entrepreneurs
Date: 06 February 2019
Tags: miscellaneous
Ministry of Micro, Small and Medium Enterprises (MSME) has declared National Film Development Corporation of India (NFDC) winner under Miniratna Category (Category II) for exemplary work amongst CPSEs for promotion of SC/ST entrepreneurs
This is part of Ministry of MSME's endeavour to felicitate select CPSEs to recognize their exemplary work towards promotion of SC/ST entrepreneurs. The performance parameters for such recognition are number of vendor development programmes for SC/ST, procurement from SC/ST entrepreneurs and number of SC/ST entrepreneurs benefitted as per data uploaded on Sambandh Portal.
Sambandh Portal: It was launched to monitor implementation of Public Procurement from MSMEs by Central Public Sector Enterprises (CPSEs). It also assists MSMEs for participation process and also helps Ministries and CPSEs to assess their performance in procurement process as stipulated in Procurement Policy, 2012.
National Film Development Corporation (NFDC)
It is central agency to encourage high quality Indian cinema. It functions under Ministry of Information and Broadcasting. It is headquartered in Mumbai, Maharashtra.

It was incorporated in 1975 by Central Government with aim of planning and promoting an organized, efficient, and integrated development of Indian film industry.

Its primary goal is to plan, promote and organise an integrated and efficient development of the Indian Film Industry and foster excellence in cinema.
Primary activities of NFDC
Film Production – 100% finance for debutant directors and co-Production with foreign and Indian film makers.

Promote Indian Films at various International film festivals and markets in India and abroad.

Organise Film Bazaar has now become one of the leading platform for promoting & showcasing Indian cinema to the world.
Objectives
Develop talent and facilitate growth of Indian cinema in all languages through productions and co-productions, script development and need based workshops.

Promote Indian culture through cinema in India and abroad.

Build lean and flexible organisation responsive to the needs of the Indian film industry.