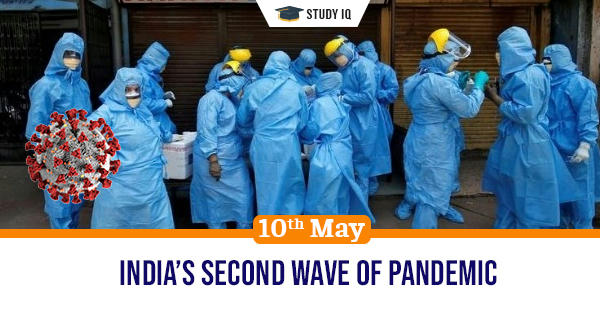 India's second wave of pandemic
Date: 10 May 2021
Tags: Reports & Indices
Issue
India's daily number of cases has been surging over 4 lakh. This has been attributed to the deadly second wave that has hit our health systems hard.
Background
India's daily cases began showing a decline from September 2020. However, the new wave is faster and more severe.
Details
The major reason for ferocious increase is the lack of Covid appropriate behaviour that includes discarding masks and avoiding physical distancing.

There is also blame on election rallies for the surging cases but majority of cases have emerged in states with no elections such as Maharashtra, Delhi and Karnataka.
Biological factor
Scientists have assumed that biological changes in the virus may have a role to play in increasing number of cases.

Viruses mutate regularly so as to avoid anti-bodies. In recent months, several mutants of the virus have been found that further strengthens the theory.

Some strains of the virus are assumed to have greater potential to transmit. The B.1.617 variant found in Vidarbha has the ability to transmit at a faster rate and avoid immune response.
Other factors
The surge in numbers cannot be attributed to a single factor such as mutated versions. Other climatic and demographic reasons could also hold true.

Large gathering of people such as weddings, festivals, markets etc could also be the reason for prolonged exposure to virus and increasing cases.
Threatening variants
The B.1.617 is already under watch by the government. Other sub-variants such as B.1.617.1, B.1.617.2 and B.1.617.3 also have the same transmission capability.

The South African and UK variant have also been considered a concern but the Brazilian variant should not be a threat.