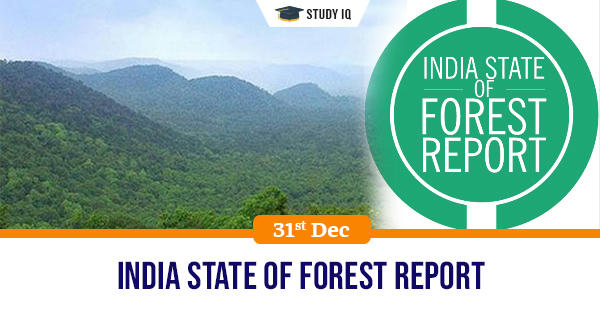 India State of Forest Report
Date: 31 December 2019
Tags: Reports & Indices
Issue
The 2019 edition of the India State of Forest Report (ISFR) was made public. The forest cover in the country increased by 3,976 square kilometres (sqkm) but with the sharpest declines in the northeastern States of Arunachal Pradesh, Manipur and Mizoram.
Background
The ISFR, a biennial exercise, is prepared by Forest Survey of India (FSI) and assesses the forest and tree cover, bamboo resources, carbon stock and forest fires.
Details
The forest cover in India constituted 21.67% of the nation's geographical area or 0.12% more than last year.

The top three States showing an increase in forest cover are Karnataka, Andhra Pradesh and Kerala.

It has also mentioned in the report that the forest area of the northeastern states has decreased except Assam.

A marginal increase in forest cover was recorded in Himachal, Uttarakhand, Uttar Pradesh, Delhi, and Bihar.

The report shows that the forest area has also increased in the infertile regions of Rajasthan.

Tree and forest cover together made up 25.56% of India's area. In the last assessment it was 24.39%.

The forest cover within the Recorded Forest Area, or that which has been officially classified by States or the Centre as 'forest,' showed a 330 sqkm decrease, but 'forest' outside such recorded area increased by 4,306 sqkm.

The mangrove cover increased by 54 sqkm, or about 1%, from the last assessment, with Gujarat and Maharashtra registering the largest improvements.

The total bamboo bearing area was estimated to be 160, 037 sqkm and increased by 3,229 sqkm, compared to the 2017 estimate.

The total carbon stock of the country was estimated at 7124 million tons, which is an increase of 42.6 million tons from the last assessment.
Important Stats
Area wise Top states in forest cover
Madhya Pradesh, Arunachal Pradesh, Chattisgarh, Odisha, Maharashtra.
Increasing Mangrove cover
Gujarat, Maharashtra, Odisha