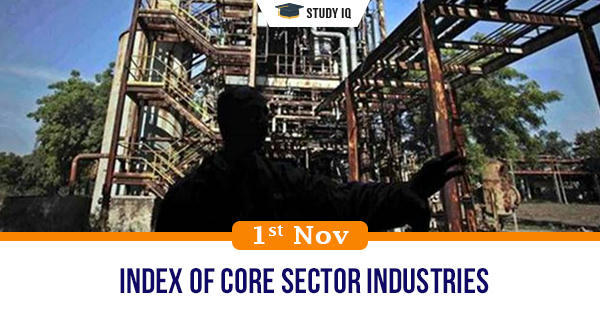 Index of core sector industries
Date: 01 November 2020
Tags: Reports & Indices
Issue
The Office of Economic Adviser within the Department for Promotion of Industry and Internal Trade released the Index of Eight Core Industries (ICI) for September 2020.
Background
It is the index of the eight most fundamental industrial sectors of the Indian economy and it maps the volume of production in these industries.
Details
The index gives different weights to each of these sectors to arrive at a final figure. Refinery Products have the largest weight while Cement has the lowest weight. Steel and Electricity are the other heavyweights.

Since these eight industries are the essential "basic" and/or "intermediate" ingredient in the functioning of the broader economy, mapping their health provides a fundamental understanding of the state of the economy.

In other words, if these eight industries are not growing fast enough, the rest of the economy is unlikely to either.

The April to September growth is a minus 14.9 percent over the same period last year. It can also be seen that some of the weightiest sectors have contracted the most.

In September three crucial sectors — Coal, Steel, and Electricity — actually grew over the same month last year. Further, Cement contracted but the rate of contraction was much smaller. The contraction in refinery products, too, is not as sharp.