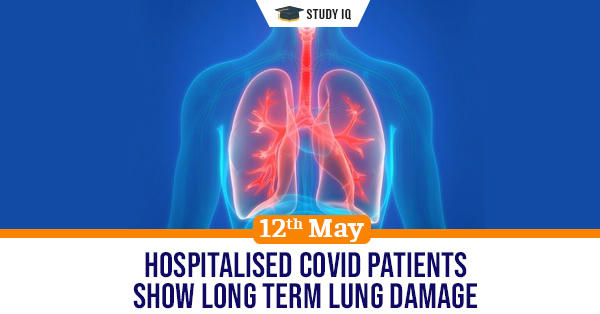 Hospitalised Covid patients show long term lung damage
Date: 12 May 2021
Tags: Reports & Indices
Issue
A new study has shown that about 1/3 rd of discharged patients after severe infection experience effects on their lungs.
Background
While Covid pneumonia has been studied extensively, there is very little information on the time needed for full recovery.
Details
Researchers studied the natural road to recovery till one year after being hospitalised for severe case of Covid-19 infection.

Patients discharged from hospital were chosen for studying. They were monitored for three, six, nine and twelve months.

After every such duration, they underwent a CT scan to determine the functioning of their lungs including the stress.

After 12 months, there was improvement in terms of exercise capacity, symptoms etc. majority of them recovered till this period of time.

However, a small percent of patients showed signs of breathlessness. The efficiency of blood transfer in lungs was reduced among these patients.

The symptoms were more prominent among women than men. These conditions were particularly observable in patients whose lung condition was severe during hospitalisation.

The study was however conducted on a small percent of patients and it does not represent universal conditions. Detailed studies have to be conducted to arrive at a conclusion.