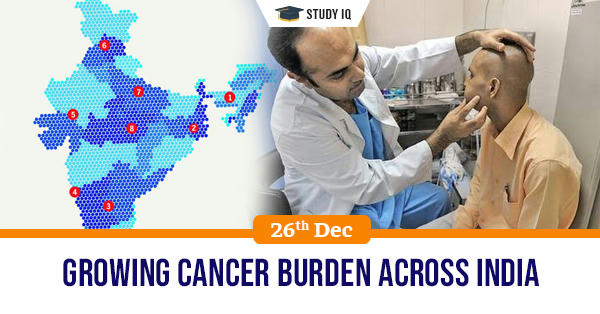 Growing cancer burden across India
Date: 26 December 2019
Tags: Reports & Indices
Issue
A study tracing the growing burden of cancer in India states that most of the increase in cancer incidences are attributable to its epidemiological transition and improvement in the use of cancer diagnostics.
Background
Cancer is a group of diseases involving abnormal cell growth with the potential to invade or spread to other parts of the body.
Details
The country's cancer burden will continue to increase as a result of the ongoing ageing of India and improving access to cancer diagnostics in rural India.

Cancer is primarily a disease of older people, hence, as life expectancy went up, cancer incidences too went up.

Maximum increases will occur in the most populous and least developed States, where the facilities for cancer diagnostics and treatment are grossly inadequate.

The present study offers lessons for planning cancer care in States as well as other countries experiencing epidemiological transition.

In India the fastest epidemiological transition happened in Kerala, whereas Uttar Pradesh remained in the slowest group.

The types of cancers in India are also undergoing a transition. There has been a decline of cancers caused by infections, such as cervical, stomach, and penile cancer, and an increase in cancers associated with energy intake, physical activity imbalance and ageing, such as breast, colorectal and prostate cancers.

The habit of chewing tobacco has remained unchecked and has spread all over India, and it is now estimated to cause a fifth of all cancers in India.

The populous, slow epidemiological transition in States will start to transition faster in the coming decades, and their cancer burdens will similarly increase faster.

India's cancer incidence is estimated at 1.15 million new patients in 2018 and is predicted to almost double as a result of demographic changes alone by 2040.
Other consequent effects of cancer
Cancer is the second leading cause of adult death in urban and fourth in rural India, but it is the leading cause of catastrophic health spending, distress financing, and increasing expenditure before death in India.

Out-of-pocket expenditure is three times higher for private inpatient cancer care in India.