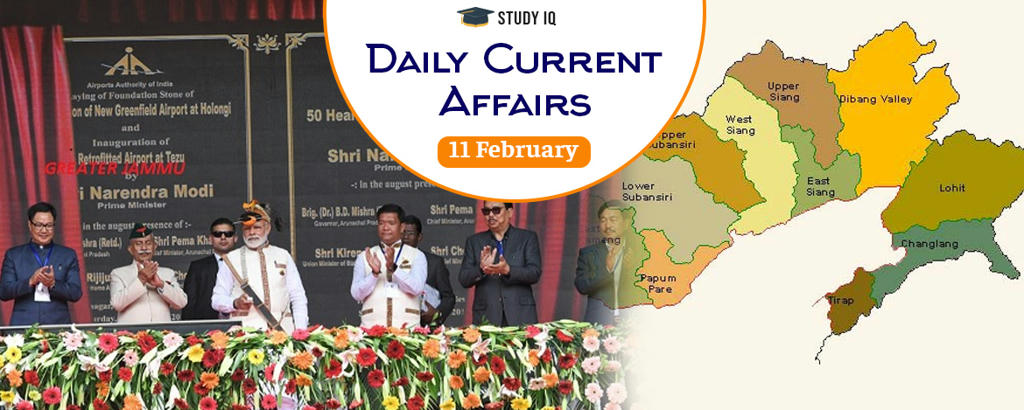 PM lays foundation stone of greenfield airport in Arunachal Pradesh
Date: 11 February 2019
Tags: miscellaneous
Prime Minister Narendra Modi laid foundation stone for construction of greenfield Airport at Hollongi near Itanagar, capital of Arunachal Pradesh. He also inaugurated upgraded and retrofitted Airport at Tezu in Lohit district of Arunachal Pradesh. Tezu airport will connect Guwahati, Jorhat and Hollongi.
Greenfield airport at Hollongi
It will have various sustainability features like green belt along approach road to act as noise barrier, use of energy efficient equipment, rain water harvesting.

It will provide great help to people Itanagar as at present nearest airport to Itanagar is at Lilabari in Assam at a distance of 80 km.

It will reduce distance by a fourth. In addition, it will also provide better connectivity to region. It will also unravel the tourism potential of the state.

It also will boost economic growth of the region and will be of strategically important to the nation.
7 Extra High Voltage Sub-stations, 24 Low Tension Sub-stations Project
Prime Minister Narendra Modi also laid foundation stone for 7 Extra High Voltage (EHV) Sub-stations and 24 Low Tension (LT) Sub-stations projects in Itanagar, capital of Arunachal Pradesh. This project is aimed at meeting objectives of affordable 24X7 power to all, especially in the remote locations. He also declared 100% household electrification in Arunachal Pradesh under Saubhagya Scheme.
About Project
It will be implemented by Power Grid Corporation of India Limited (POWERGRID), a Navratna Company under Union Ministry of Power.

It will come under 'Comprehensive Scheme for Strengthening of Transmission & Distribution (T&D) Systems in Arunachal Pradesh', a Central Sector Plan Scheme of Union Ministry of Power that was sanctioned in October 2014 at estimated cost of Rs. 3,199.45 crores.
Significance of Project
It will enhance consumers' access to affordable grid connected power supply and boost local economy of Arunachal Pradesh.

It will reduce dependency on operation of Diesel Generating Plants in Arunachal Pradesh, thus bringing socio-economic and environmental benefits to the people of the state.

It will facilitate development of small scale industries, cottage industries and tourism sector in the region. It will facilitate lying of optical fiber to extend communication facility to the small villages.

It will give impetus to integration of upcoming Hydro Power Generating Plants in Arunachal Pradesh with the National Grid.