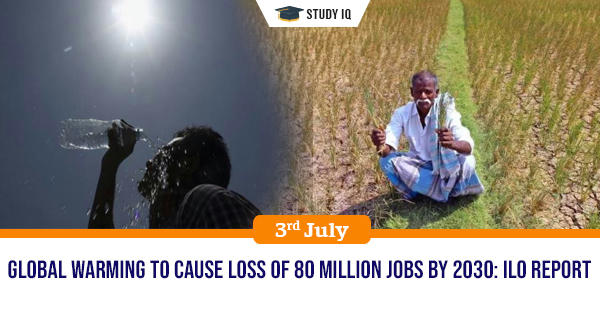 Global warming to cause loss of 80 million jobs by 2030: ILO Report
Date: 03 July 2019
Tags: Reports & Indices
According to recent report, growing heat stress on workers in agriculture and other sectors due to climate change will cause productivity loss equal to 80 million full-time jobs over the next decade. The report is titled "Working on a warmer planet: The impact of heat stress on labour productivity" and was released by International Labour Organization (ILO).
Report Highlights
By 2030, 2.2

%

of total working hours worldwide will be lost because of higher temperatures. This represents an economic losses totaling 1.4% of global gross domestic product, or $2.4 trillion.

The percentage is expected to be more than double that in hardest-hit regions, western Africa and southern Asia.

Its projections are based on global temperature rise of 1.5 degree Celsius by end of 21st century, and labour force trends. Heat stress is defined as generally above 35 degrees Celsius, in places with high humidity.

Effects on India:

India will be the most affected country, because of its large population. India is projected to lose 5.8

%

of working hours in 2030 due to global warming, particularly impacting agriculture and construction sectors. In absolute terms, it will account for 34 million jobs in 2030 due to global warming.

These working hours will be lost because it will be too hot to work or because workers work at a slower pace.