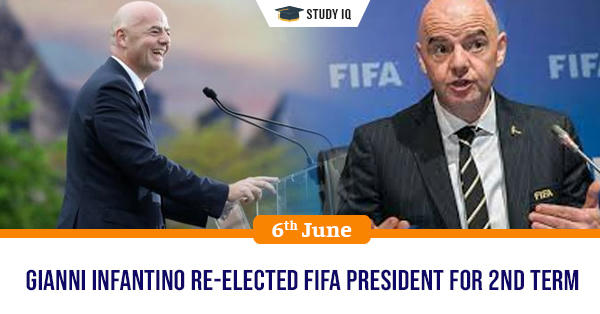 Gianni Infantino re-elected FIFA president for 2nd term
Date: 06 June 2019
Tags: Sports
Gianni Infantino (49) re-elected as President of Federation Internationale de Football Association (FIFA), a global governing body of football for second term. He was declared winner unopposed at 2019 FIFA Congress held in Paris, France as he was the only candidate contesting for the post. He will now have tenure of four-year until 2023. He was first elected in February 2016 after Sepp Blatter was ousted amidst corruption investigations.
About Gianni Infantino
He was born on 23 March 1970 in Brig, Canton of Valais, Switzerland. He holds Swiss and Italian nationality.

Prior to becoming FIFA President, he was General Secretary of UEFA (Union of European Football Associations) since 2009 and was associtated with UEFA for past 15 years.

Prior to joining UEFA, he had worked as Secretary General of International Centre for Sports Studies (CIES) at University of Neuchatel. He also had worked as adviser to a variety of football bodies in Italy, Spain and Switzerland.
About Federation Internationale de Football Association (FIFA)
It is the governing body of association football, futsal and beach football. It was established 1904 and is headquartered in Zürich, Switzerland.

It is responsible for organisation of football's major international tournaments and their promotion notably World Cup and Women's World Cup.

Its members currently comprises 211 national associations from six regional confederations viz. Africa, Asia, Europe, Caribbean, Oceania, North & Central America and South America.

It does not control rules of game of football (which is responsibility of International Football Association Board), but it is responsible for both organization of number of tournaments and their promotion, which generate revenue from sponsorship.