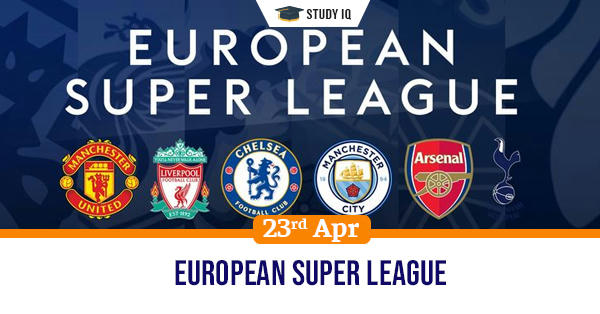 European Super League
Date: 23 April 2021
Tags: Sports
Issue
The scheme of top European clubs to join the breakaway European Super League fell apart after major clubs from England cancelled their plans.
Background
European clubs believe that they are not getting the share of revenue they were entitled to get, and started the new league. The plan fell flat after fans criticised the move.
Details
There was strong opposition from players including legends, former coaches, and pundits who believed that such a league will be disastrous.

Head of the countries and ministers also showed their clear intent of opposition. The royal family of England also expressed resentment.

Fans of famous clubs such as Arsenal and Chelsea were involved in protests outside the stadiums. Players also openly opposed the move.

Heads and CEOs of clubs such as Manchester United have resigned as a mark of protest. The fans are calling for other CEOs to resign for propagating the rebel league.

After continuous pressure from fans, players and also politicians, the big six of EPL announced their withdrawal.

There has been no news on scrapping of the Super league but its chairman has expressed that it is unfeasible to continue with the league.
Reason for proposed changes to league
The existing system allows remote and undistinguished European teams to play with the best teams. However, there are major flaws.

The current revenue distribution is flawed. Major clubs of Spain, England, Germany, Italy and France generate about 72 per cent of the revenue but only receive a fraction of it.

There are only 3 automatic spots available for the clubs in Big Five and that results in some of the most popular and big spending clubs missing out.