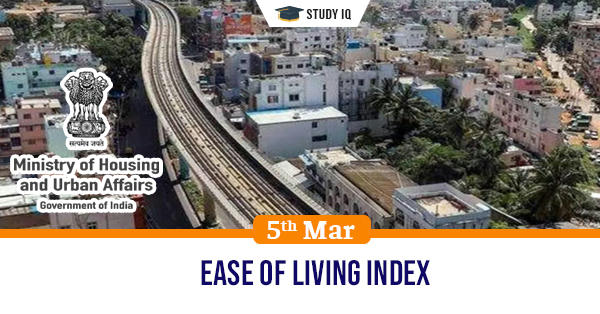 Ease of living index
Date: 05 March 2021
Tags: Reports & Indices
Issue
The ministry of housing and urban affairs has released the Ease of Living Index for the year 2020.
Background
The index is released in order to measure the outcomes of programmes and check whether these measures were effective in bringing progress in urban India.
Details
Bengaluru emerged as the top performer in the Million+ category, followed by Pune, Ahmedabad, Chennai, Surat. Dhanbad occupies the last place.

In the Less than Million category, Shimla ranked the highest in the index, followed by Bhubaneshwar, Silvassa, Kakinada, Salem. Muzaffarpur is last in this list.
Ease of Living Index
The Ease of Living Index is an assessment tool that evaluates the quality of life and the impact of various initiatives for urban development.

It provides a comprehensive understanding of participating cities across India based on quality of life, economic-ability of a city, and its sustainability and resilience.

The assessment also uses the residents' view on the services provided by city administration through a Citizen Perception Survey.
Criteria
Quality of Life, Economic Ability, Sustainability, spanning across 13 categories of -Education, Health, Housing and Shelter, WASH and SWM, Mobility, Safety and Security, Recreation, Level of Economic Development, Economic Opportunities, Environment, Green Spaces, and Buildings, Energy Consumption, and City Resilience.
Significance
India is one of the fastest-growing economies in the world. It is expected to have 50 percent of its population residing in cities within the next 30 years at current rates.

The findings from the index can help formulate evidence-based policymaking. It also promotes healthy competition among cities, encouraging them to learn from others and boost their development trajectory.