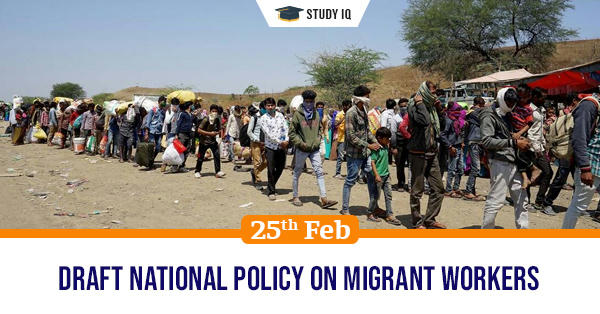 Draft National Policy on migrant workers
Date: 25 February 2021
Tags: Reports & Indices
Issue
NITI Aayog, along with a working subgroup of officials and members of civil society, has prepared a draft national migrant labour policy.
Details
The draft describes two approaches to policy design: one focussed on cash transfers, special quotas, and reservations; the other which "enhances the agency and capability of the community.

The policy rejects a handout approach, opting instead for a rights-based framework. It seeks to remove restrictions on true agency and potential of the migrant workers.

This compares with the approach taken in the Report of the Working Group on Migration, released in January 2017 by the then Ministry of Housing and Urban Poverty Alleviation.

The report argued that the movement from agriculture to manufacturing and services was inherently linked to the success of migration in the country.
Issues with existing laws
The report discussed the limitations of The Inter State Migrant Workers Act, 1979, which was designed to protect labourers from exploitation by contractors by safeguarding their right to non-discriminatory wages, travel and displacement allowances, and suitable working conditions.

However, this law covered only labourers migrating through a contractor, and left out independent migrants.

The 2017 report questioned this approach, given the size of the country's unorganised sector. It called for a comprehensive law for these workers, which would form the legal basis for an architecture of social protection.

This was in line with the recommendations of a 2007 report by the National Commission for Enterprises in the Unorganised Sector under the Ministry of Micro, Small and Medium Enterprises.
The recommendations
The NITI draft lays down institutional mechanisms to coordinate between Ministries, states, and local departments to implement programmes for migrants.

This unit would manage migration resource centres in high migration zones, a national labour Helpline, links of worker households to government schemes, and inter-state migration management bodies.

On the inter-state migration management bodies, it says that labour departments of source and destination states along major migration corridors, should work together through the migrant worker cells.
The Ministry of Education should take measures under the Right to Education Act to mainstream migrant children's education, to map migrant children, and to provide local-language teachers in migrant destinations.

The Ministry of Housing and Urban Affairs should address issues of night shelters, short-stay homes, and seasonal accommodation for migrants in cities.

The National Legal Services authority (NALSA) and Ministry of Labour should set up grievance handling cells and fast track legal responses for trafficking, minimum wage violations, and workplace abuses and accidents for migrant workers.
Reducing migration
Alongside the long-term goal, policies should promote the role of panchayats to aid migrant workers and integrate urban and rural policies to improve the conditions of migration.

Panchayats should maintain a database of migrant workers, issue identity cards and pass books, and provide migration management and governance through training, placement, and social-security benefit assurance.