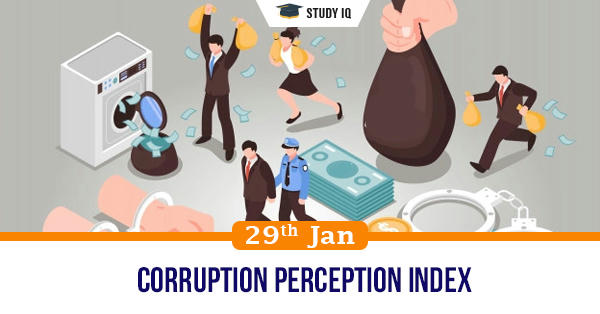 Corruption Perception Index
Date: 29 January 2021
Tags: Reports & Indices
Issue
India's rank has slipped six places to 86th among 180 countries in a corruption perception index (CPI) in 2020.
Background
Corruption Perception Index is released by Transparency International to determine people's perception of corruption in the country.
Details
The index ranks 180 countries and territories by their perceived levels of public sector corruption according to experts and business people. It uses a scale of 0 to 100, where 0 is highly corrupt and 100 is very clean.

India's rank is 86 out of 180 nations with a score of 40. India was ranked at 80th position out of 180 countries in 2019. The CPI score for India is constant this year as well as the previous year's score.

This year, New Zealand and Denmark were ranked at first position with scores of 88. Somalia and South Sudan were ranked lowest at 179th position with scores of 12.

India is still very low on corruption Index, as experts feel the CPI does not reflect the actual corruption level in any country. The integrity score determines the corruption situation of a country.
Corruption Perception Index
The Corruption Perceptions Index (CPI) is an index published annually by Berlin-based Transparency International since 1995 which ranks countries by their perceived levels of public sector corruption.

The CPI generally defines corruption as "the misuse of public power for private benefit".
Criteria
The CPI takes into account different surveys and assessments from different institutions such as World Bank, World Economic Forum, African Development Bank etc.

Countries need to be evaluated by at least three sources to appear in the CPI.[9] The CPI measures perception of corruption due to the difficulty of measuring absolute levels of corruption.
Significance
The researchers found a correlation between a higher CPI and higher long-term economic growth, as well as an increase in GDP growth of 1.7% for every unit increase in a country's CPI score.

There was a power-law dependence linking higher CPI score to higher rates of foreign investment in a country.
Criticism
Corruption is too complex a concept to be captured by a single score.

By measuring perceptions of corruption, instead of corruption itself, the Index may simply be reinforcing existing stereotypes and clichés.

The Index only measures public sector corruption, ignoring the private sector.