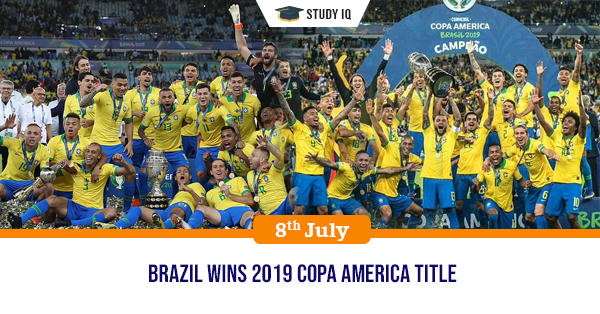 Brazil wins 2019 Copa America title
Date: 08 July 2019
Tags: Sports
Brazil won 2019 Copa America title by defeating Peru in the finals by 3-1 goals. It was overall ninth Copa America title of Brazil and after gap of 12 years since 2007. In the final match held in Brazil, Everton and Gabriel Jesus scored one goal each in the first half, while Richarlison score third goal in penalty for Brazil.
This was 5th title for Brazil at home and it has won the title every time they hosted the tournament at home. The last time they won Copa América at home was in 1989 against Uruguay. This was also Brazil's first tournament success since winning a gold medal at 2016 Olympics. This was 46th edition of Copa América. Brazil's veteran right-back Dani Alves was named player of the tournament and Everton was named player of the final.
Copa America Football title
Copa America means America Cup in Spanish and Portuguese. It is oldest international continental football competition established in 1916.

It is played between men's national football teams of South American Football Confederation (CONMEBOL). Since the 1990s, teams from North America and Asia also are participating.

The present tournament format was restructured in 1993 which involves 12 teams. These teams compete at venues in a host nation over a period of one month.

Uruguay has won Copa America title for record 15 times, followed by Argentina for 14 times.