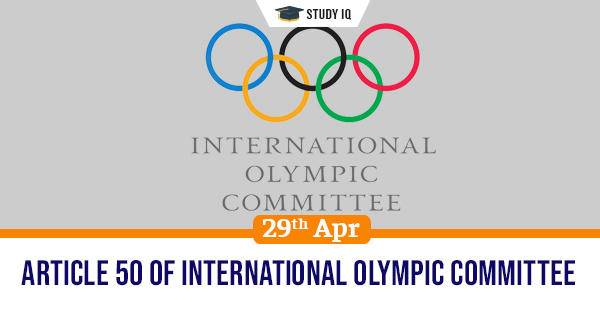 Article 50 of International Olympic Committee
Date: 29 April 2021
Tags: Sports
Issue
The International Olympic Committee (IOC) has made new changes for conduct of athletes that does not allow protest on the field, on podiums, and during ceremonies.
Background
The IOC has stipulated certain guidelines as Tokyo Olympics is set to commence. This includes giving life to Rule 50.
Details
The IOC's Rule 50 bans any form of demonstration or religious, racial or political propaganda at venues and any other Olympic area.

The Olympic body has been pressurised to allow participants to express their belief after the anti-racism protests during Black Lives Matter campaign.

An athlete survey has shown that about 70 percent of participants do not want play arena and official ceremonies to be places of demonstrations.

There is a belief that sports should be played with dignity and neutrality without allowing space for political protests.

There is a suggestion instead to increase the expression in press conferences, mixed zones and social media without interference.

Several athletes feel that they should be allowed to make use of the podium to express an opinion they believe in.
Sanctions
At present there is no clarity in form of sanctions that may be imposed if athletes violate the Rule 50 and protest in the prohibited areas.