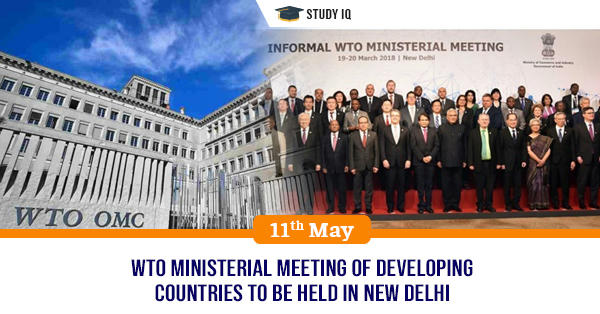 WTO Ministerial Meeting of Developing Countries to be held in New Delhi
Date: 11 May 2019
Tags: International Organizations
The World Trade Organisation (WTO) Ministerial meeting of developing countries will be hosted by India in New Delhi from 13 to 14 May 2019. This meeting will see participation of sixteen developing countries, six least developed countries (LDC) and Director General (DG) of WTO.
Key Highlights WTO Ministerial meeting
It seeks to bring together developing countries and LDCs on platform for sharing common concerns on various issues affecting WTO and work together to address these issues.

It will also provide opportunity to developing countries and LDCs to build consensus on how to move forward on WTO reforms, while preserving fundamentals of multilateral trading system enshrined in the WTO.

Its deliberations are aimed at getting direction on constructively engaging on various issues in WTO, both institutional and negotiating and in run up to 12th WTO Ministerial Conference to be held in Kazakhstan in June 2020.
Significance of meeting
It is being held at time when multilateral rule-based-trading system is facing serious and grave challenges. In the recent past, there have been increasing unilateral measures and counter measures by members, deadlock in key areas of negotiations and impasse in the Appellate Body, which threaten very existence of WTO's Dispute Settlement Mechanism. This has impacted position of the WTO as effective multilateral organisation. This situation has given rise to demands from various quarters to reform the WTO.
World Trade Organisation (WTO)
It is inter-governmental organization for governments to negotiate global trade agreements and progressively liberalizing trade.

It was established on 1 January 1995 and its official languages are English, French and Spanish. Its headquarter is located in Geneva, Switzerland.

It operates system of trade rules that apply to all its members. It also has trade dispute resolution mechanism for its members to settle their trade disputes.