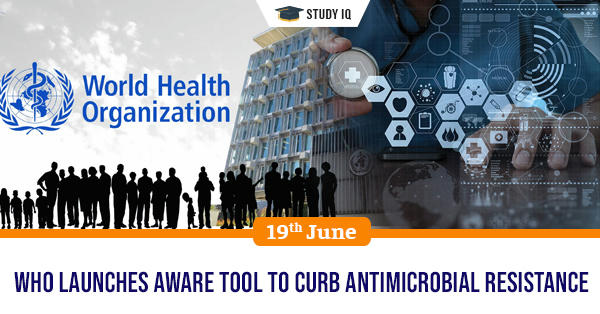 WHO launches AWaRe tool to curb antimicrobial resistance
Date: 19 June 2019
Tags: International Organizations
WHO has launched global campaign urging governments to adopt AWaRe tool to reduce the spread of antimicrobial resistance (AMR), adverse events and costs.
AWaRe
It is online tool aimed at guiding policy-makers and health workers to use antibiotics safely and more effectively. It also seeks to limit drugs that are at risk of resistance. It has been developed by the WHO Essential Medicines List to contain rising resistance and make antibiotic use safer and more effective.
It classifies antibiotics into three groups:
Access:

antibiotics used to treat the most common and serious infections.

Watch:

antibiotics available at all times in the healthcare system.

Reserve:

antibiotics to be used sparingly or preserved and used only as a last resort.
New campaign
Objective: Increase the proportion of global consumption of antibiotics in Access group to at least 60% and to reduce use of the antibiotics most at risk of resistance from the Watch and Reserve groups. It will make easier for policy-makers, prescribers and health workers to select right antibiotic at right time, and to protect endangered antibiotics.
Antimicrobial resistance
It is already one of the biggest health risks and is estimated to kill 50 million by 2050 worldwide.It threatens to undo a century of medical progress. Its threat continues to escalate globally because more than 50% of antibiotics in many countries are used inappropriately such as for treatment of viruses when they only treat bacterial infections or use of wrong (broader spectrum) antibiotic.