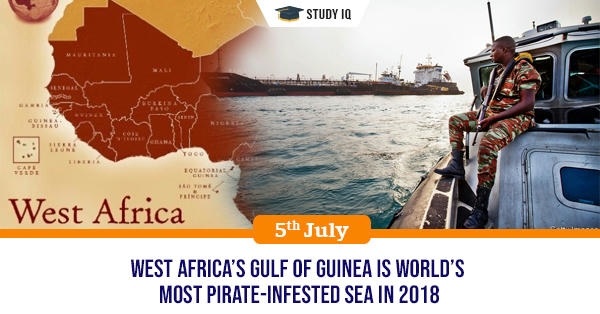 West Africa's Gulf of Guinea is world's most pirate-infested sea in 2018
Date: 05 July 2019
Tags: International Organizations
According to Annual Piracy Report released by International Maritime Bureau (IMB), West Africa's Gulf of Guinea has become world's most pirate-infested sea in 2018, with 72 attacks on vessels between Ivory Coast and Cameroon– up from 28 in 2014. This year so far it has recorded 30. Elsewhere piracy is in declined. Between 2014 and 2018 number of incidents of sea piracy each year in Southeast Asia has fallen from 141 to 60, and to just three off Somalia, which in 2007-12 faced this century's worst piracy crisis.
About International Maritime Bureau (IMB)
It is non-profit making organization and specialized department of International Chamber of Commerce (ICC). It was established in 1981 to act as focal point in the fight against all types of maritime crime and malpractice. It is endorsed by UN's International Maritime Organisation (IMO). It has observer status with Interpol and MOU with World Customs Organization (WCO). Its responsibilities lie in fighting crimes related to maritime trade and transportation, particularly piracy and commercial fraud, and in protecting the crews of ocean-going vessels.