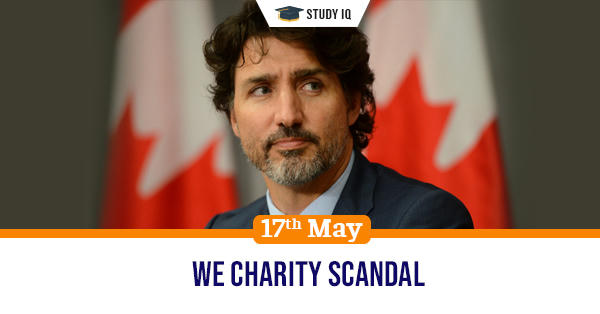 WE charity scandal
Date: 17 May 2021
Tags: Miscellaneous
Issue
The Canadian federal Ethics Commissioner has given clean chit to Prime Minister Justin Trudeau for his role in awarding a no-bid contract to an organisation having links to his family.
Background
The WE scandal emerged as a further setback for Trudeau and his Liberal Party after it lost its parliamentary majority.
Details
The scandal led to the resignation of finance minister Bill Morneau, who also had family ties with the organisation and was accused of misusing his position.

There was an allegation that the minister has failed to recuse himself in issue in which he had a direct influence and gave preferential treatment.
The scandal
The Canadian government had given WE charity a no-bid contract for implementing emergency volunteer programme for Covid-19 impacted children.

The scandal broke out after it was found out that the charity had links to family of Trudeau as well as Morneau.

Trudeau's family members including his wife, brother and mother had received payments for attending charity events of WE charity. Morneau had taken a trip sponsored by WE Charity.

Trudeau and Morneau have both apologised for failing to recuse themselves when they have direct and private stake in the decision.

The ethics commissioner has said that the accused made a genuine mistake and there was no deliberate attempt to influence decision making.