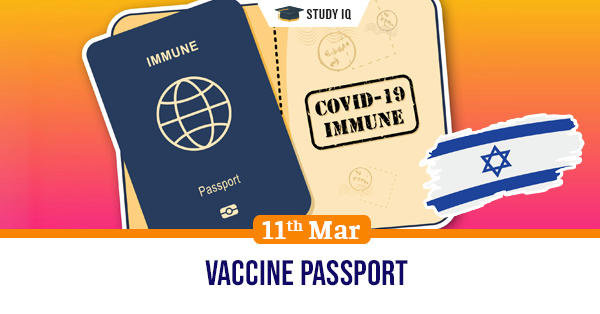 Vaccine passport
Date: 11 March 2021
Tags: Miscellaneous
Issue
Israel has become the first country in the world to introduce a form of certification system that allows individuals vaccinated against Covid-19 to get access to selected facilities and events.
Background
The certification is dubbed as 'vaccine passport' and is meant for public facilities such as restaurants, gyms, and hotels in the country.
Details
The idea of vaccine passport is similar to the vaccine certificate that several countries required even before the pandemic.

People travelling from India as well as several African countries to the US were required to submit proof that they have been vaccinated against disease like Yellow fever.

The vaccine passports have been modelled as digital documents. They will function as proof that the holder has been vaccinated against Covid-19 and is deemed to be safe.

Another function that vaccine passport is supposed to perform is that of digitising vaccine records across countries.
Existing vaccine passports
Several associations and groups have issued their own versions of vaccine passports for international travel.

An app known as IATA Travel Pass is being developed to provide airlines and other similar industry members with a single platform to check for the proof of vaccination and its validity.
Beneficiaries
The benefitting sections include tourism and the hospitality industries, which have been reeling under infection spread and strict quarantine norms imposed by governments.

Major impediment in implementation will be the lack of uniformity across jurisdictions in requirement and issuance of proofs of vaccination.
Concerns
WHO has said that using vaccine passports as a free pass should be curtailed because there are still questions regarding efficacy of vaccination.

Vaccination for travellers could result in shortages for priority populations such as healthcare workers, aged population etc.

Since these are digital records and can be accessed by multiple controllers, there are high chances of data leakages and information theft.