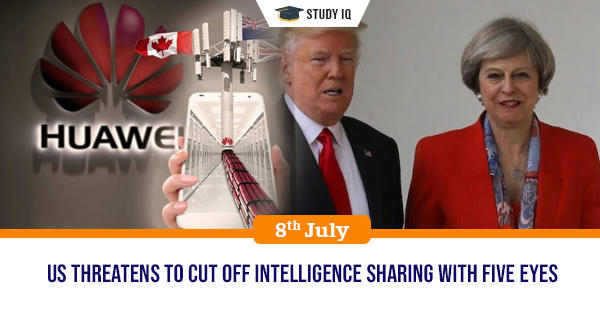 US threatens to cut off intelligence sharing with Five Eyes
Date: 08 July 2019
Tags: International Organizations
United States (US) has threatened to cut off intelligence sharing between so-called Five Eyes unless its members ban 5G equipment from China's techgiant Huawei, fearing it could be vehicle for Chinese spy operations.
Background
In February 2019, US Secretary of State Mike Pompeo had warned Five Eyes members that US will not share information with them if they included Huawei in their critical information systems. In May 2019, US President Donald Trump used national security order to ban Huawei and Mike Pompeo warned UK specifically over excluding Huawei from its 5G network. Australia and New Zealand already have taken steps to restrict Huawei's access. Now only Britain and Canada are yet to final call on Huwaei.
About Five Eyes
It is anglophone intelligence alliance comprising Australia, Canada, New Zealand, United Kingdom and United States.

It is often abbreviated as FVEY and its name refers to security classification of intelligence documents: "SECRET – AUS/CAN/N.Z./U.K./U.S. EYES ONLY" or "FVEY."

These countries are parties to multilateral UKUSA Agreement, a treaty for joint cooperation in signals intelligence.

History:

Its origin traces back in 1946 (post World War II) when US and UK agreed to open exchange of intelligence on communications of foreign nations. It was expanded when Canada joined alliance in 1948, followed by Australia and New Zealand in 1956.

Functioning:

During cold war, national agencies of five eyes members were allowed to share monitoring infrastructure and to track nuclear-armed Soviet submarines during Cold War. The surveillance partnership was further strengthened following 9/11 attacks on United States. Since then, monitoring of internet communications member countries has since expanded exponentially.