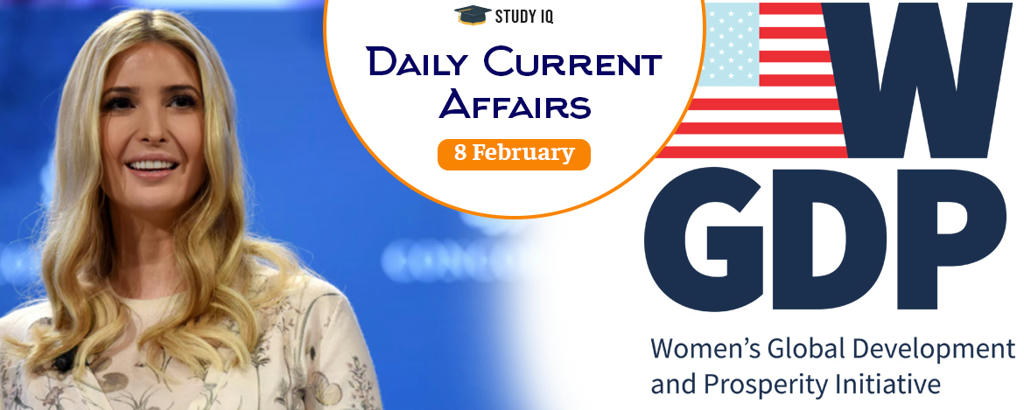 US launches Women's Global Development and Prosperity Initiative
Date: 08 February 2019
Tags: International Organizations
United States has launched Women's Global Development and Prosperity Initiative (W-GDP) aimed at advancing economic empowerment of 50 million women in the developing world by 2025. This initiative has been conceived by Ivanka Trump, daughter and senior adviser of US President Donald Trump.
Women's Global Development and Prosperity Initiative
It seeks to advance rights of women and girls worldwide and achieve peace and economic prosperity for all members of society.

It will focus on efficiently and effectively directing US's policy and programmatic efforts to support workforce development and women entrepreneurs.

This will be achieved by breaking down barriers to create environments for women to participate fully in the economy.

It will provide innovative educational programs, financial and technical assistance, capacity building, and mentorship to support women's economic participation.

It will involve US Department of State, National Security Council and other agencies including several private companies.US Government has allocated for fund of $50 million for this initiative.

It will engage private sector, public sector, and civil society to ensure that women have opportunity to reach their full economic potential in US and around the world, thereby promoting prosperity and peace for all.
Comment
W-GDP helps to realize US President Trump's 2017 National Security Strategy, which acknowledges women's critical role in achieving global peace and prosperity.

It also for first time coordinate US's commitment to one of most undervalued resources in the developing world i.e. talent, ambition and genius of women