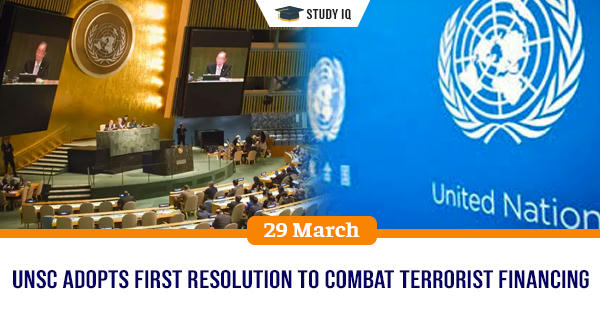 UNSC adopts first resolution to combat terrorist financing
Date: 29 March 2019
Tags: International Organizations
United Nations Security Council (UNSC) has unanimously passed Resolution 2462 on Countering the Financing of Terrorism. It is first-ever resolution adopted by UNSC to suppress funding of terror groups worldwide and ordering members to enforce laws against terror financing. This resolution was introduced by France, which currently is holding presidency of Council.
Features of Resolution 2462
It mandates all member states to have laws to prosecute serious criminal offences, collection of funds or provision of resources and services to terrorist organisations or individual militants and enforce them

It combines all previous and existing resolutions to create consolidated document for strong collaboration and targeted efforts against terrorism.

It also calls on members to create financial intelligence units (FIUs). It directs UN Office of Counter-Terrorism (UNOCT) to play leading role in identifying ways to suppress terrorist financing.

It states that if member states fail to implement this resolution, they will face UN sanctions.

It urges all member states to participate actively in implementing and updating ISIL (Daesh) and Al-Qaida Sanctions List (or UNSC 1267 Committee) and to consider including, when submitting new listing requests, individuals and entities involved in financing of terrorism
Background
The adoption of this resolution comes at such critical time when recent terror attacks clearly demonstrate terror groups' access to funding, legally or illegal. Currently, Financial Action Task Force's (FATF) two-thirds of Member States have not yet taken effective stringent legal action against terrorist financing. Pakistan in this case is main culprit country with lax enforcement of terror financing and money laundering laws, despite being placed FATF in "grey list" of countries that fail to adequately act against financing terrorists.
UN Office of Counter-Terrorism (UNOCT)
It was established by UN General Assembly (UNGA) by adopting resolution 71/291 on in June 2017 to help member states to implement global counter-terrorism strategy. It is headed by an Under-Secretary–General and currently post is held by Russia's Vladimir Ivanovich Voronkov (in office from June 2017). It maintains close relationship with UNSC bodies and member states, strengthening existing and developing new partnerships.
Five main functions
Provide leadership on UNFA counter-terrorism mandates entrusted to Secretary-General from across UN system;

Enhance coordination and coherence across 38 Global Counter-Terrorism Coordination Compact (former CTITF) Task Force entities to ensure balanced implementation of four pillars of UN Global Counter-Terrorism Strategy;

Strengthen delivery of UN counter-terrorism capacity-building assistance to member states;

Improve advocacy, visibility and resource mobilization for UN counter-terrorism efforts.

Ensure due priority is given to counterterrorism across UN system and firmly root important work on preventing violent extremism in the strategy.