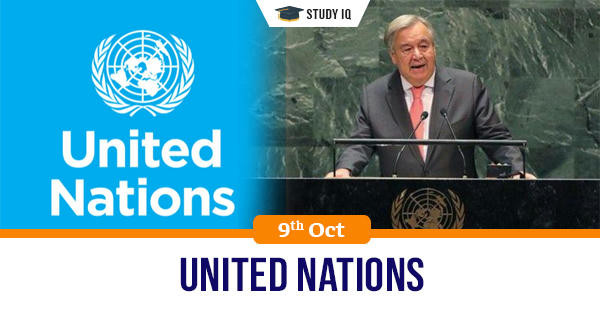 United Nations
Date: 09 October 2019
Tags: International Organizations
Issue
The UN chief has warned that the United Nations does not have enough money to pay the salaries of the staff if the countries do not pay what they owe to the organisation.
Background
Countries have been complaining regarding amount of contribution for the UN with the U.S. President Donald Trump saying that Washington is shouldering an unfair burden of the cost of the United Nations and has pushed for reforms of the world body.
Details
The United Nations (UN) is an intergovernmental organization tasked with maintaining international peace and security, developing friendly relations among nations, achieving international co-operation, and being a centre for harmonizing the actions of nations.

It was established after World War II, with the aim of preventing future wars, and succeeded the ineffective League of Nations.

Its headquarters, which are subject to extraterritoriality, are in Manhattan, New York City, and it has other main offices in Geneva, Nairobi, Vienna and The Hague.

The organization is financed by assessed and voluntary contributions from its member states.

Its objectives include maintaining international peace and security, protecting human rights, delivering humanitarian aid, promoting sustainable development, and upholding international law.

The UN has six principal organs: the General Assembly; the Security Council; the Economic and Social Council; the Trusteeship Council; the International Court of Justice; and the UN Secretariat.

The UN System agencies include the World Bank Group, the World Health Organization, the World Food Programme, UNESCO, and UNICEF.
Major contributors
The United States is the largest contributor - responsible for 22% of the more than $3.3 billion regular budget for 2019, which pays for work including political, humanitarian, disarmament, economic and social affairs and communications.
Peace keeping mission
U.N. peacekeeping missions are funded by a separate budget and the United States is responsible for nearly 28% of the peacekeeping budget but has pledged to pay only 25% - as required by U.S. law.

The top contributing countries are Ethiopia, India, Bangladesh, Nepal and Rwanda. They pay their troops according to their national salary scales and are reimbursed by the U.N. As of July 2019, the U.N. paid $1,428 a month per soldier.