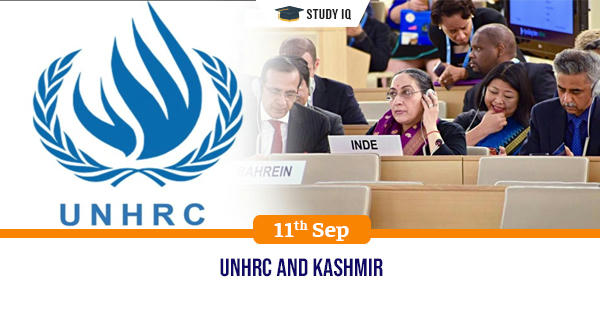 UNHRC and Kashmir
Date: 11 September 2019
Tags: International Organizations
Issue
India has said the revocation of Jammu and Kashmir's special status was within the country's sovereign right and entirely an internal matter, rejecting Pakistan's demand for an international probe by the UNHRC into the Kashmir issue.
Background
Pakistan has been asking the Council to urge India to immediately stop the use of pellet guns, lift the curfew, reverse the clampdown and communications blackout to fulfil obligations under the UN Security Council Resolutions and various human rights instruments.
Details of UNHRC
The United Nations Human Rights Council is a United Nations body whose mission is to promote and protect human rights around the world.

The UNHRC has 47 members elected for staggered three-year terms on a regional group basis. The headquarters of UNHRC is in Geneva, Switzerland.

The UNHRC investigates allegations of breaches of human rights in UN member states, and addresses important thematic human rights issues such as freedom of association and assembly, freedom of expression, freedom of belief and religion, women's rights, LGBT rights, and the rights of racial and ethnic minorities.
UNHRC election
The members of the General Assembly elect the members who occupy the UNHRC's 47 seats. The term of each seat is three years, and no member may occupy a seat for more than two consecutive terms.

The seats are distributed among the UN's regional groups as follows: 13 for Africa, 13 for Asia, six for Eastern Europe, eight for Latin America and the Caribbean (GRULAC), and seven for the Western European and Others Group (WEOG).