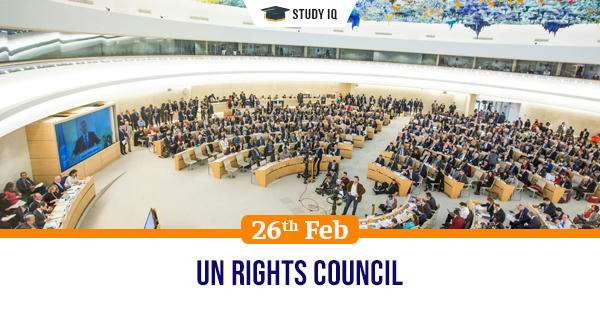 UN Rights Council
Date: 26 February 2021
Tags: International Organizations
Issue
Sri Lanka is facing another resolution in UN Human Rights Council regarding its Human rights abuse during the civil war.
Background
Sri Lanka had exited UNHRC alleging unfair treatment when a resolution was passed against its actions.
Details
The United Nations Human Rights Council (UNHRC) is a United Nations body whose mission is to promote and protect human rights around the world.

The UNHRC has 47 members elected for staggered three-year terms on a regional group basis. The headquarters of UNHRC is in Geneva, Switzerland.

The UNHRC was established by the UN General Assembly on 15 March 2006 to replace the UN Commission on Human Rights that had been strongly criticised for allowing countries with poor human rights records to be members.

The UNHRC investigates allegations of breaches of human rights in United Nations member states, and addresses important thematic human rights issues such as freedom of association and assembly, freedom of expression, freedom of belief and religion, women's rights, LGBT rights, and the rights of racial and ethnic minorities.
Structure
The members of the General Assembly elect the members who occupy the UNHRC's 47 seats. The term of each seat is three years, and no member may occupy a seat for more than two consecutive terms. The seats are distributed among the UN's regional groups

The General Assembly can suspend the rights and privileges of any Council member that it decides has persistently committed gross and systematic violations of human rights during its term of membership.
Seat distribution
13 for the African Group

13 for the Asia-Pacific Group

6 for the Eastern European Group

8 for the Latin American and Caribbean Group

7 for the Western European and Others Group
Criticism
The UNHRC has been criticised for the repressive states among its membership.

Countries with questionable human rights records that have served on the UNHRC include Pakistan, Cuba, Saudi Arabia, China, Indonesia, and Russia.

The UNHRC has been accused of anti-Israel bias, a particular criticism being its focus on the Israeli-Palestinian conflict at each session as Agenda Item 7.