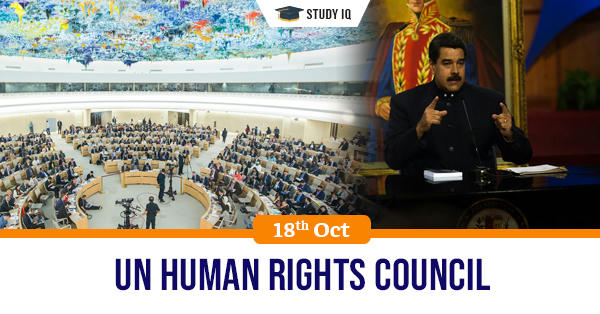 UN Human Rights Council
Date: 18 October 2019
Tags: International Organizations
Issue
Venezuela has been elected to the United Nations Human Rights Council, despite fierce lobbying by the United States and rights groups to prevent its entry.
Background
The United States has been trying to oust Venezuelan President Nicolas Maduro, who has overseen an economic collapse and is accused of corruption and human rights violations .
Details
The U.N. General Assembly has elected a total 14 Human Rights Council members from five regional blocs. Germany, the Netherlands, Libya, Mauritania, Namibia and Sudan were elected uncontested but still needed to win a majority vote.

Armenia, Poland, Indonesia, Marshall Islands, South Korea and Japan beat competition in their regional blocs to win seats with Japan winning a second term.
UN Human Rights Council
13 for the African Group

13 for the Asia-Pacific Group

6 for the Eastern European Group

8 for the Latin American and Caribbean Group

7 for the Western European and Others Group