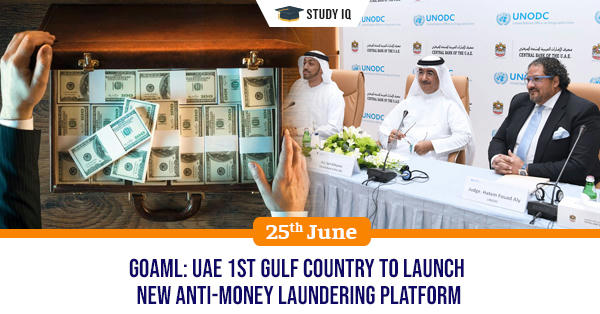 goAML: UAE 1st Gulf country to launch new anti-money laundering platform
Date: 25 June 2019
Tags: International Organizations
United Arab Emirates (UAE) become the first country in the Gulf to launch goAML, a new anti-money laundering platform. goAML has been customised to the requirements of the UAE's Anti-Money Laundering and Counter Terrorist Financing framework.
About goAML
It has been developed by United Nations Office on Drugs and Crime to curb organised crimes (UNODC) for use by the UAE Central Bank's Financial Intelligence Unit (FIU).

It is also available to Financial Intelligence Units (FIUs) of Member States to support their work in countering money laundering and terrorist financing.

It facilitates receipt, analysis, and dissemination of illicit transactions and activity to law enforcement authorities in the UAE.

UAE's reporting entities including financial institutions such as banks, finance companies and exchange houses are required to register on this platform.

It will be also used by law enforcement agencies, and designated non-financial professions such as accountants and lawyers.