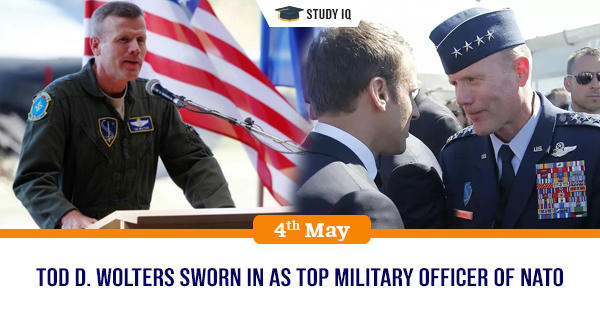 Tod D. Wolters sworn in as top military officer of NATO
Date: 04 May 2019
Tags: International Organizations
United States (US) Air Force General Tod D. Wolters was sworn in as Supreme Allied Commander Europe (SACEUR), the top military officer of North Atlantic Treaty Organisation (NATO). He succeeds US Army General Curtis M. Scaparrotti and will have term of two to three years. He will also be commander of U.S. forces in Europe. He is former pilot of US AirForce and had served in Afghanistan and Iraq.
Supreme Allied Commander Europe (SACEUR)
He is the commander of NATO's Allied Command Operations (ACO) and head of ACO's headquarters, Supreme Headquarters Allied Powers Europe (SHAPE).

It is the second-highest military position within NATO, below only Chairman of the NATO Military Committee in terms of precedence.

This position has always been held by US military officer and is dual-hatted with that of Commander of US-European Command.
North Atlantic Treaty Organisation (NATO)
It is military and political alliance between 29 North American and European countries based on the North Atlantic Treaty (Washington Treaty) signed on 4 April 1949

Mandate: To promote democratic values and enables members to consult and cooperate on defence and security-related issues to solve problems, build trust and, in the long run, prevent conflict.

Headquarter:

Brussels, Belgium, while headquarters of its Allied Command Operations is near Mons, Belgium.

Collective defence:

Article 5 of Washington Treaty states that armed attack against one of member states of NATO will be considered as attack against all members and other members will assist attacked member, with armed forces if necessary.

Defence Spending:

The combined military spending of all NATO members constitutes over 70

%

of the total global defence spending.