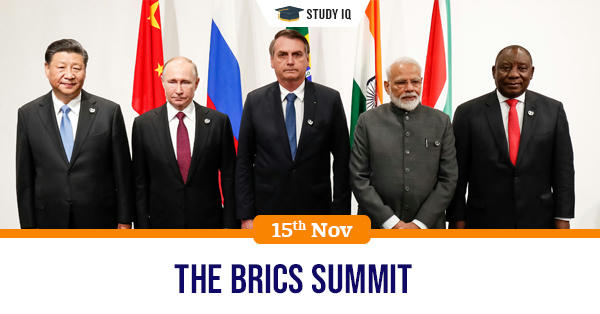 The BRICS summit
Date: 15 November 2019
Tags: International Organizations
Issue
The 11th edition of the BRICS summit was held in Brasilia in Brazil, which was attended by all the member countries including PM Modi.
Background
The BRICS summit 2019 theme is 'Economic Growth for an Innovative Future'. The five BRICS nations account for almost 50 percent of the world's economic growth.
Details
The BRICS 2019 is expected to focus on strengthening cooperation in the fields of science, technology, innovation and the digital economy.

The annual summit also aims to advance cooperation in the fight against transnational crime, especially organized crime, money laundering and drug trafficking.
BRICS
BRICS is a currently a group of five major developing economies, Brazil, Russia, India, China, South Africa. Initially, the bloc included only four nations and was termed as BRIC, as South Africa became a member of the bloc only in 2010.

BRICS nations make up almost 42 percent of the world's population, 23 percent of the global GDP and about 17 percent of the world trade.

The group also accounts for almost 50 percent of world economic growth and 26.6 percent of the world area.

All BRICS nations are members of the G20 group. The BRICS summit has been hosted alternatively every year since 2009.
New Development Bank
The New Development Bank (NDB), formerly referred to as the BRICS Development Bank, is a multilateral development bank established by the BRICS states.

According to the Agreement on the NDB, the Bank shall support public or private projects through loans, guarantees, equity participation and other financial instruments.

Moreover, the NDB shall cooperate with international organizations and other financial entities, and provide technical assistance for projects to be supported by the Bank.

The initial subscribed capital of the bank was equally distributed among the founding members. The Agreement on the NDB specifies that the voting power of each member will be equal to the number of its subscribed shares in the capital stock of the bank.

The bank is headquartered in Shanghai, China. The first regional office of the NDB is in Johannesburg, South Africa.

The Current President of the bank is K. V. Kamath, from India.