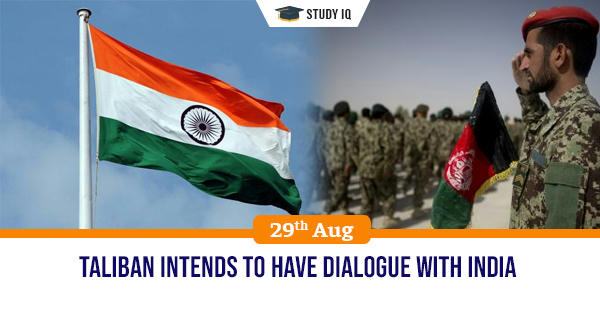 Taliban intends to have dialogue with India
Date: 29 August 2019
Tags: Indian Foreign Policy
Issue
There has been an increased interest inside the Taliban about a possible dialogue with India. The Taliban has offered to hold talks with India if India wishes to talk.
Background
The Taliban and the United States are on the last stages to finalise a peace agreement in their talks in the Doha which is aimed at ending the 18-year Afghanistan war.

The Taliban had changed its earlier policy of violence induced agenda to political dialogue. This would mean a possible solution to Afghanistan problem.
Details and history
Neither India nor Taliban have held any direct talks over the last two decades. The Taliban has changed its stand and had adopted dialogue as a policy for the future of Afghanistan. Like other countries, India too can be a dialogue partner.

Apart from the U.S, China, Russia and Iran held talks with the outfit as the United Nations sanctions on members of the political group were lifted, allowing Taliban negotiators to travel abroad.

A major issue between India and Taliban was the hijacking of Indian Airlines aircraft IC814 in 1999 by militants of Harkat-ul-Mujahideen that led to negotiation with the militant group mediated by Taliban in the Kandahar airport.

The Government of India had earlier appointed a special envoy to look after India's interests in Afghanistan during the tenure of Prime Minister Manmohan Singh. The current government has not appointed a special envoy for Afghanistan so far.

Iranian foreign minister has hinted that Tehran could help India initiate a dialogue with the outfit. However, such an initiative is yet to take off.