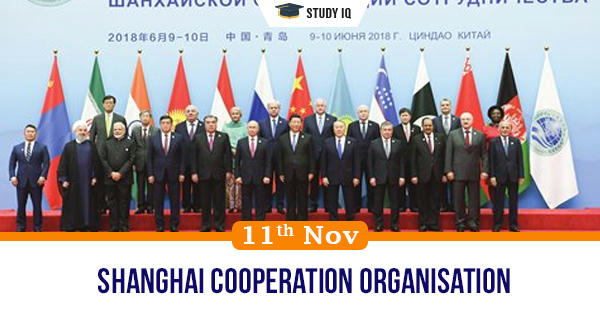 Shanghai Cooperation Organisation
Date: 11 November 2020
Tags: International Organizations
Issue
Prime Minister Narendra Modi took part and spoke at the virtual summit of the Shanghai Cooperation Organisation (SCO).
Background
It was the first time that Modi and President Xi Jinping shared the same platform since the India-China standoff along the Line of Actual Control (LAC) emerged in the open in May.
Details
The Shanghai Cooperation Organisation (SCO), or Shanghai Pact, is a Eurasian political, economic, and security alliance, the creation of which was announced on 15 June 2001 in Shanghai.

The original five member countries are China, Russia, Kazakhstan, Kyrgyzstan, and Tajikistan. They are known as Shanghai Five. India and Pakistan joined the group in 2017. The observer states are Afghanistan, Belarus, Mongolia, and Iran.

The Heads of State Council (HSC) is the supreme decision-making body in the SCO, it meets once a year and adopts decisions and guidelines on all important matters of the organisation.

Military exercises are also regularly conducted among members to promote cooperation and coordination against terrorism and other external threats, and to maintain regional peace and stability.

The SCO is the largest regional organisation in the world in terms of geographical coverage and population, covering three-fifths of the Eurasian continent and nearly half of the human population.
SCO secretariat
The Secretariat of the SCO is the primary executive body of the organisation. It serves to implement organisational decisions and decrees, drafts proposed documents, function as a document depository for the organisation, arrange specific activities within the SCO framework, and promotes and disseminates information about the SCO. It is located in Beijing.

The official working languages of the Shanghai Cooperation Organisation are Chinese and Russian.
RATS
The Regional Anti-Terrorist Structure (RATS), headquartered in Tashkent, Uzbekistan, is a permanent organ of the SCO which serves to promote cooperation of member states against the three evils of terrorism, separatism, and extremism.

The Head of RATS is elected to a three-year term. Each member state also sends a permanent representative to RATS.