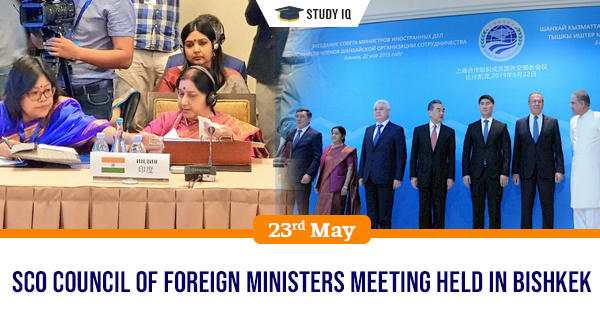 SCO Council of Foreign Ministers Meeting held in Bishkek
Date: 23 May 2019
Tags: International Organizations
The two-day meeting of Shanghai Cooperation Organisation (SCO) Council of Foreign Ministers (CMF) meeting was recently held in Bishkek, capital city Kyrgyz Republic. This was second CFM meeting attended by India as full member of SCO and was represented by Union External Affairs Minister Sushma Swaraj. Earlier she had also attended the last CFM meeting in Beijing (China) on in April 2018. SCO CFM meeting in Bishkek will review preparations for forthcoming SCO Summit scheduled to be held in Bishkek on 13-14 June 2019 and also exchange views on topical issues of internationaland regional importance.
About Shanghai Cooperation Organisation (SCO)
It is permanent intergovernmental international organisation. It is Eurasian political, economic, and security alliance and has been the primary security pillar of the region.

Its main objective is military cooperation between member states. It is primarily centred on security-related concerns of Central Asian members with main threats being terrorism, separatism and extremism. It also works towards counter-terrorism operations, intelligence-sharing in Central Asia.

It was established in 2001 and is successor of Shanghai Five mechanism (established in 1996).

Heads of State Council (HSC):

It is SCO's supreme decision-making body which meets once year and adopts decisions and guidelines on all important matters of it.

SCO's two permanent bodies are:

(i) SCO Secretariat in Beijing and (ii) Executive Committee of Regional Anti-Terrorist Structure (RATS) based in Tashkent, Uzbekistan,

Membership:

SCO has eight member states viz. Russia, Kazakhstan, China, Kyrgyzstan, India, Pakistan, Tajikistan, and Uzbekistan. India and Pakistan were granted SCO membership in June 2017 (prior to this they were having observer status.

Four observer states:

Afghanistan, Belarus, Iran and Mongolia.

Dialogue partners of SCO:

Turkey, Azerbaijan, Armenia, Cambodia, Sri Lanka and Nepal.