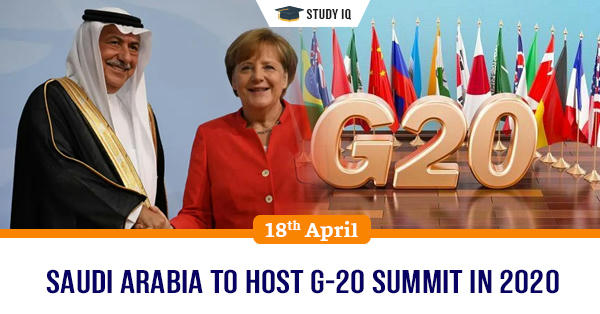 Saudi Arabia to host G-20 Summit in 2020
Date: 18 April 2019
Tags: International Organizations
Saudi Arabia will host annual G20 leaders' summit in November 2020, in its capital, Riyadh. This will be first G20 meeting to be held in the Arab world. It will 15th G20 summit and its agenda will include financial, economic and social issues including energy, environment, climate, trade, agriculture, digital economy, healthcare, education and labour.
Japan will host this year's G20 summit in Osaka, which will be held June 2019 as well as ministerial meetings in eight cities. The 2018 summit was held in Buenos Aries, Argentina and it had focused on the global economy, future of labour markets and gender equality. India is hosting G20 leaders' summit in 2022, coinciding with its 75 years of independence.
G-20
It is grouping made up of 19 of world's biggest economies, as well as the European Union. It formed in 1999 to discuss policy matters and financial stability as meeting of Finance Ministers and Central Bank Governors in the aftermath of the South-east Asian (Tiger economies) financial crisis.
Its members include Australia, Argentina, Brazil, Canada, China, India, France, Germany, Indonesia, Italy, Japan, South Korea, Mexico, Saudi Arabia, Russia, Turkey, South Africa, United Kingdom, United States and EU. They represent 85% of global GDP, 80% of international trade, 65% of world's population.
It serves as premier forum for international economic cooperation and decision-making for governments and central bank governors from 20 major economies to focus on economic issues and other important development challenges.
The first G20 Leaders' Summit was held in 2008 in Washington DC, US. Prior to this, it was merely forum for meeting of G20 Finance Ministers and Central Bank Governors. It has played key role in responding to the global financial crisis.